Bathrooms are the ultimate haven for you to sit back, relax and enjoy the luxury of refined design. There are multiple ways that you can design your bathroom, depending on the type of style you wish to achieve. With a rough idea and some professional help, you can create your dream space. So, to lend you helping hand and give you some inspiration, here is our guide on how to style a bathroom.
How To Style A Bathroom: An Ahmco Guide
Every homeowner has their own style, and it is important that regardless of whether you have a modern or eclectic taste, you portray your style through your home interior design. This is easier to achieve than you may think, and with years of knowledge within the industry, the Ahmco team can bring your vision to life through a range of high-quality and luxury products. Here are the four main styles: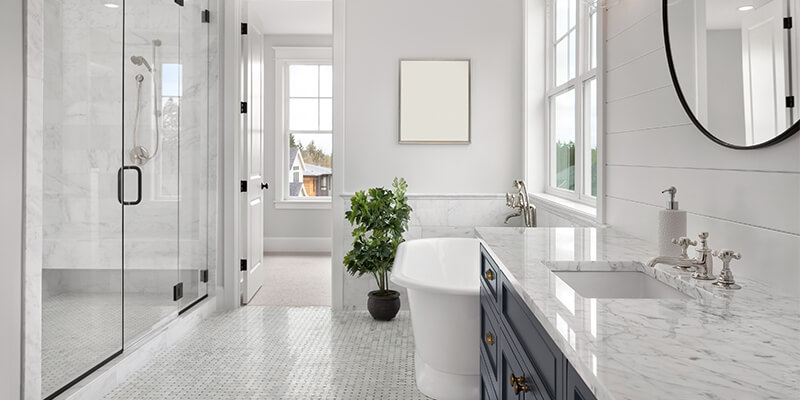 With the wide selection of products available, the eclectic style is one of the best ways to incorporate every item that catches your eye in a stunningly put together design. For example, if you like a touch of traditional style with a hint of modern flair, then you can perfectly pair items together to create a luxury bathroom design. With the wide range of bathroom fixtures and accessories available here at Ahmco, specialist designers can help you transform your outdated bathroom into an elegant, eclectic piece of art. Why not try using the following items:
When it comes to the bath, you can either choose between an extravagant statement piece or a simple yet stunning design. For an eclectic bathroom, we would always suggest meeting somewhere in the middle. The acrylic boat bath with an aluminium trim is extremely popular in eclectic bathrooms, due to its simple design with a touch of colour to beautifully compliment your chosen flooring. These baths often come in various different colours, of which you can either match or contrast with your colour palette. The aluminium rim at the bottom of the bath can be perfectly matched with luxury taps and showerheads to create a seamless finish to your bathroom design.
Another form of freestanding baths that seem popular this season is to have a copper bathtub located against the wall with nothing surrounding it, allowing it to become the focal point of the room. A copper bath can easily be matched with an array of bathroom fixtures, making it ideal for those wishing to create a subtle yet outstanding bathroom design. By having the bath against a feature wall, you instantly catch the eye for that dramatic effect.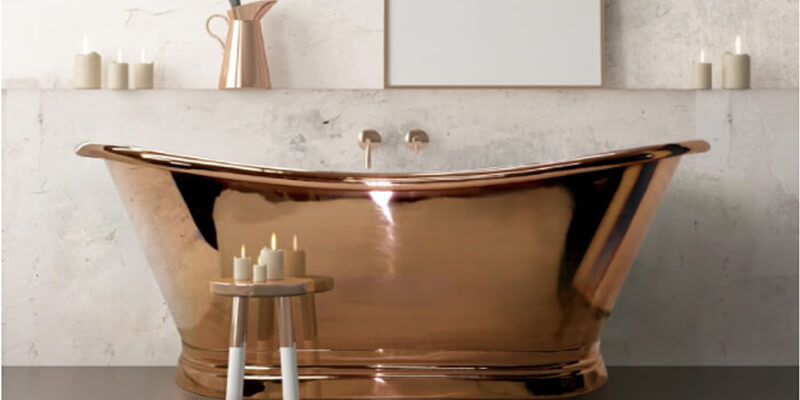 (BC Designs – Copper Boat Bath)
While eclectic is often associated with extravagant bathroom designs, it doesn't mean that every element of your bathroom has to be wacky and wild. The shower is the perfect location to showcase tile work and luxury fixtures such as chrome showerheads. To create some definition within your shower, why not incorporate a white shower tray with black fixtures? The bespoke glass panel can add a sense of style when opting for a black frame and black door handle. For example, the Zephyros and Opera range come with a selection of designs depending on the space you have to work with, whether you require a corner shower, or one fitted into the wall.
To match your shower screen, you can opt for a black shower head and valves, which look stunning up against a white wall and white shower tray. If you want to go that extra mile with your shower design, then you could even include different tiles for the shower area, such as a soft beige concrete. When it comes to the shower enclosure, there are a range of different features that bring the design together. For example, you can even choose your door hinges for that ultimate high-end feel. Ahmco professional designers and installers are happy to bring your vision to life, designing an eclectic bathroom with all the added shower elements to elevate your design to new levels of luxury.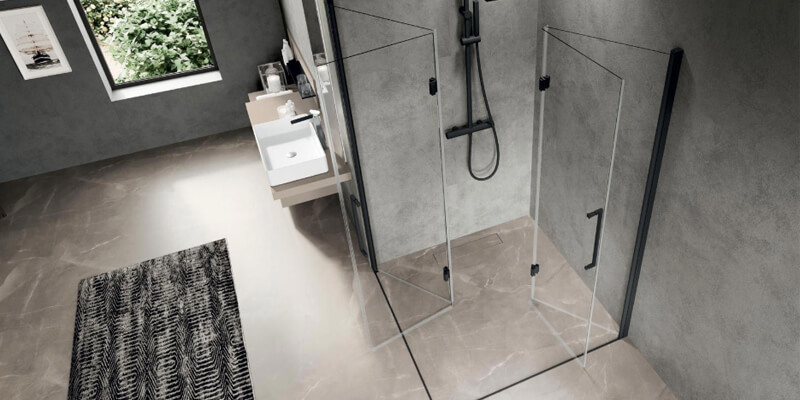 (Novellini – Zephyros)
The sink tends to be the location where the eclectic design comes to life. From the basin mixer to the mirror and other accessories, everything acts as a masterpiece, incorporating different style ideas to create a unified and artistic design. The key technique for this style is to combine crisp and sharp colours with soft tones. For example, a dark navy floating draw with gold handles and a white basin is an easy way to make a statement in your bathroom design. To finish off the design, pair it with some gold taps and a feature wall, along with a stunning bespoke mirror. For some more bathroom sink ideas, take a look at Houzz, which also has some inspirational feature walls.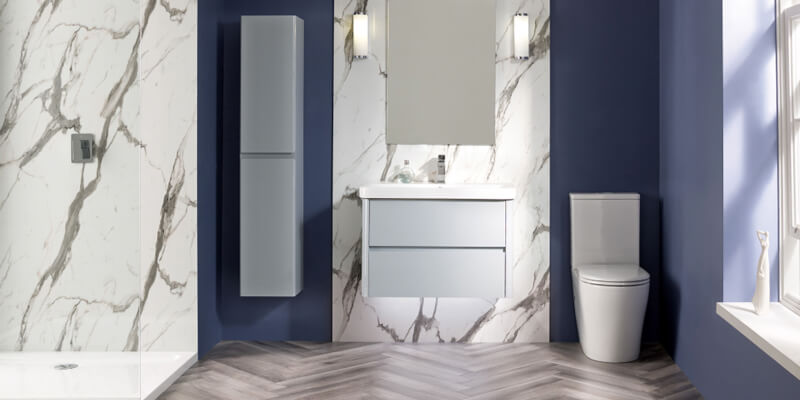 (Calypso – Brenta)
While it may not be the first thing on your agenda, the tiles used on both your floor and walls can have a big impact in an eclectic room. This is where you are able to choose a pattern that sets the tone for the room and incorporates your colour palette. You can make a pattern through your tiling in various different ways, whether it be through the shape of the tiles, or the printed pattern.
For a design that stands out and takes your breath away every time you step inside, we would suggest opting for a patterned tile. Some clients like to have this tiling on one wall such as where the sink is, to create that stunning feature wall design. If you opt for black or grey patterned tiling, then you can thread this colour through a marble effect wall. The Spruce has an array of inspirational floor tiling for your bathroom to create that luxury feeling with a hint of quirkiness.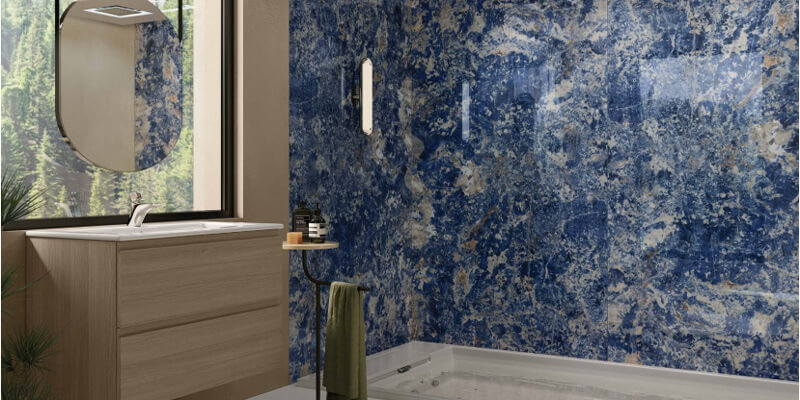 (RAK – Bahia)
Bathroom accessories add that final touch of luxury to any bathroom style, and can be perfectly matched with the rest of your bathroom. From toilet roll holders to towel rails and soap dispensers, Ahmco has a range of accessories to add to your bathroom design. If you have opted for copper finishes, then our Bond brass range is ideal, providing you with a selection of accessories for a coherent look.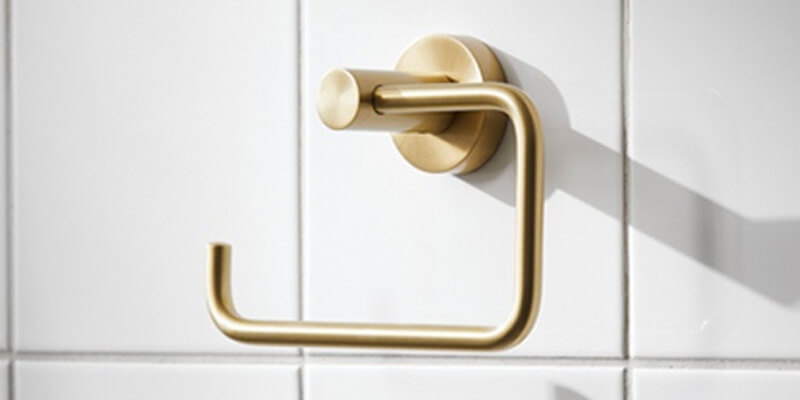 (Miller – Bond Brushed Brass)
A lot of clients often associate the traditional style with old fashioned tacky tiles and rusting fixtures. However, with the range of products now available, designing traditional bathrooms in Harpenden and the surrounding areas can be incorporated with modern designs for an elegant, impressive and eye-catching finish.
Traditional baths tend to be oval in shape, and generally stay within the light colour range. However, this doesn't mean that you can't add some detail through the bathrooms features. While a freestanding bath that sits directly on the floor may be more traditional, a stunning bath with detailed feet can add to a simplistic bathroom design. The bath will usually stand well against your chosen flooring and bathroom features if the bath is white. If you decided to go for a bath with chrome feet, then you can match it with chrome taps to create a seamless finish to your statement piece.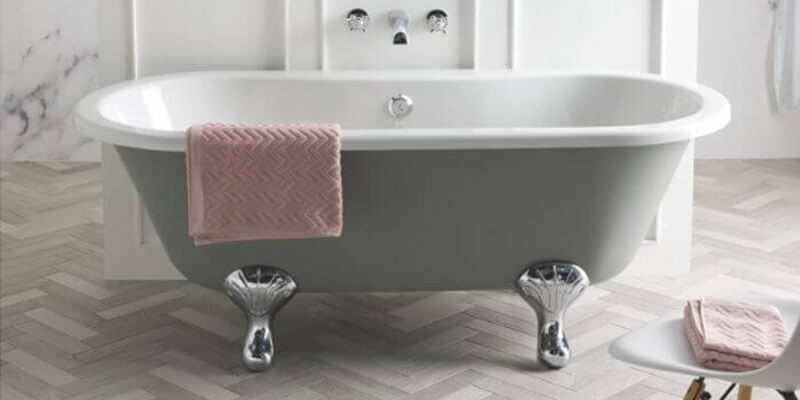 (BC Design – Elmstead Bath)
Traditional designs don't necessarily mean old fashioned, and you can easily incorporate a new, modern form of traditional style through the shower design. Whether it is simply the colours you use for your shower tray or the beautifully designed showerheads and valves, you can mix and match your design to fit with your own personal taste.
For the shower, the valves and the showerhead are definitely the most important aspect in order to achieve your desired look. The more extravagant and eye-catching the showerhead, the better. An unusual design comes from the Victoriana collection, which gives you an elegant pipework with a bowl-like showerhead. Ensure that you can showcase the interior of your shower through the use of a bespoke and perfectly fitted glass enclosure. Ahmco can provide you with bathroom suites in Harpenden and the surrounding areas, ensuring that your bathroom design matches your style with touches of luxury. Contact the team today to start designing your bathroom.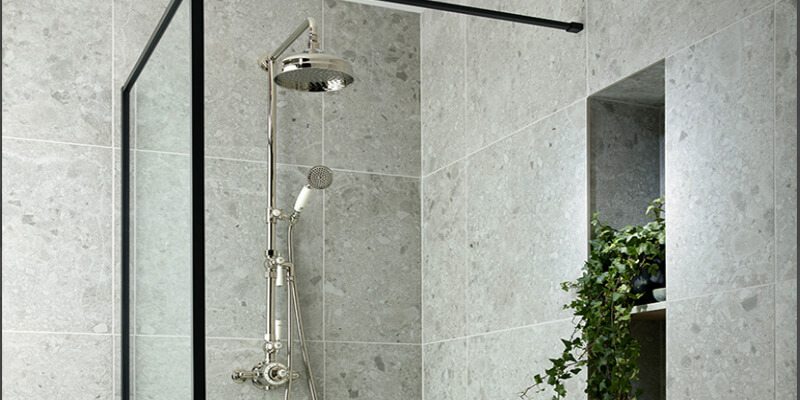 (Vado – Axbridge Showering)
When it comes to the sink design of your traditional bathroom, the furniture you use is just as important as the fixtures you opt for. Bronze taps matched with your shower head will give a seamless finish to your bathroom design, adding a touch of traditional flair without making the room outdated. Ahmco's Elements range gives a sleek design to your bathroom, and comes in four different finishes. Our specialist designers can help you to match the finish of your basin mixer to the finish of your shower fixtures for a unified finish.
For the furniture, you could create a traditional French feel with a white floor standing unit, these units come in various shapes, sizes and designs, making it easy to match your personal style with bathroom products. Depending on the space you have to work with, you could incorporate a matching sink and toilet units, allowing to create a luxury traditional feel even when you have little space to work with. The Kingsbury range is ideal for creating this look, giving a slight touch of vintage elegance, which also has the ability to beautifully complement a modern design.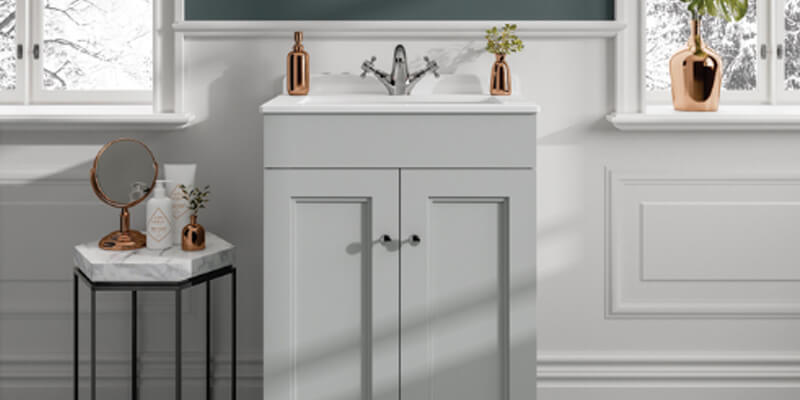 (HIB – Kingsbury)
For a traditional bathroom, you can easily use tiles to your advantage, helping you to set the tone for your bathroom. A trend in traditional bathroom designs is to have brown/beige coloured tiles paired with glass features. For example, a bathroom on Pinterest shows how the colour of the tiles brings a modern twist to the traditional design, making it feel clean, fresh and luxurious. Detroit metal tiling is the best way to achieve this look, and looks stunning when paired with brass fixtures and features.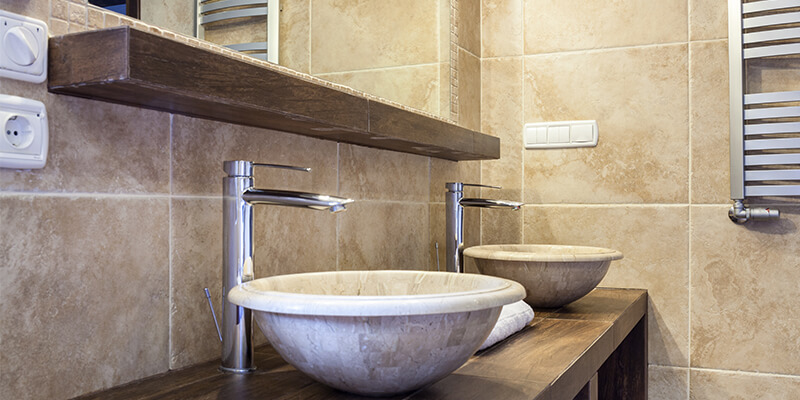 (RAK – Detroit Metal)
While you may be opting for a more traditional look, it doesn't mean that you can't create luxury through an array of accessories. Ahmco's Richmond and Stockholm range provides you with exceptionally designed features that enhance your design. Whether you are designing a small cloakroom bathroom or the main bathroom, towel rings or rails can be incorporated depending on the size you have to work with. Silver and chrome tend to be the best materials for traditional bathrooms, as they give you that old fashioned feel with a touch of glamour.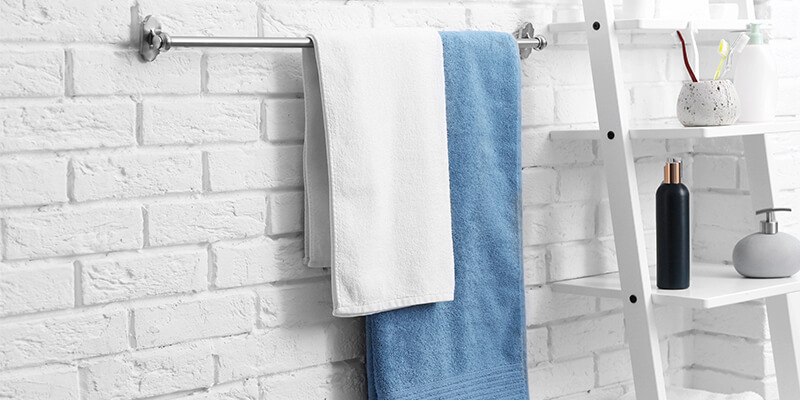 (Millers – Richmond)
Contemporary bathrooms are sleek and stylish, instantly giving you that high-end performance with a luxury essence. Simplicity is key to achieving this look, but that doesn't mean that you can't immerse yourself in a luxury experience. Here is how to create this look through the following features:
Many bathroom designers will have a section for contemporary design, which is ideal for those looking for a bathroom style that stands out from the crowd. The simplistic and futuristic style allows you to incorporate a range of luxury items into your design while maintaining the look you are going for. When it comes to your bath, not only can you incorporate a contemporary style, but you can also benefit from whirlpools.
Ahmco provides whirlpool baths within our wellness designs, of which come with an abundance of health benefits. These features add a whole new level of relaxation to your bathing experience, with a selection of different designs that can easily be incorporated into your design.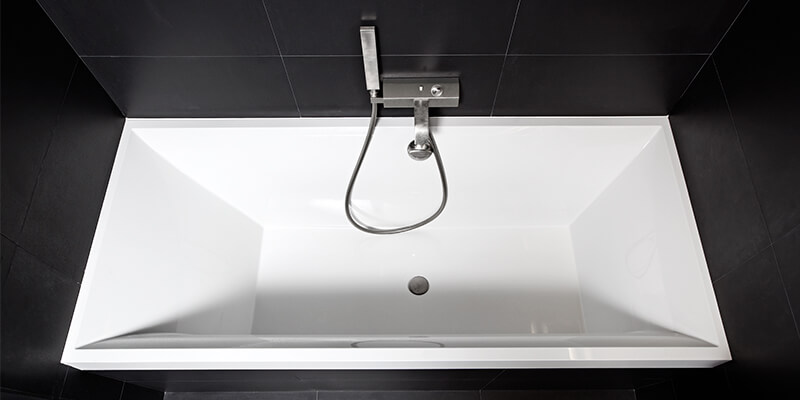 (BC Designs – Murali Bath)
For a contemporary shower, you need to keep it simple while adding in some luxury touches to give you that relaxing feel every time you hop into the shower. Digital showers can give you that futuristic design while also giving you the ability to incorporate different elements of modern, traditional or eclectic style. Smart Touch technology enhances your shower experience, providing you with the capability to regulate the temperature, pressure and in some cases, play music.
For the shower enclosure, opt for a slate shower tray matched with glass panels and a black frame. When placing a grey slate shower tray against white walls and flooring, you create a sectioned zone that acts as the centrepiece to your bathroom. Real Homes has some easy and stunning ways to create a contemporary bathroom, most of which focus around grey shades, white and black.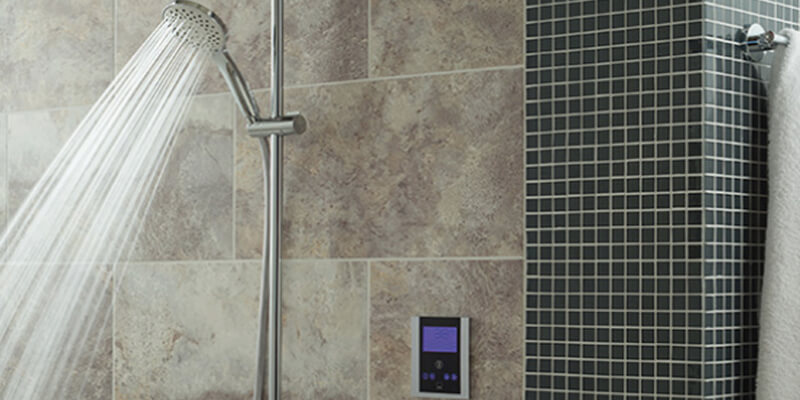 (VADO – Sensori)
Wood, slate and chrome create a sleek scheme for your contemporary bathroom, bringing both textures and colours together. This helps to create a stunning visual effect in the bathroom, instantly drawing the eye to the sink area. The contrast in materials gives the bathroom personality, making it ideal for those that wish to create a simplistic design that stands out from the crowd.
For those of you looking for some inspiration ready for designing your own contemporary bathroom, take a look at some ideas by following this link. Once you have a rough idea of what you would like to achieve, Ahmco specialists can piece together a design through our range of products and brands. For example, our Notion tap range from VADO perfectly complements a HiB Vessel washbasin, creating a spa-like feel with a classic cutting edge design.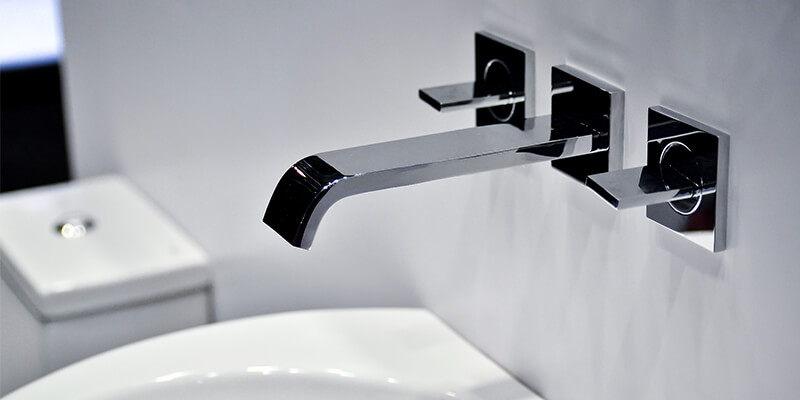 (VADO – Notion)
When it comes to tiling a contemporary bathroom, various different tile designs and materials can complement the style. For example, a concrete floor can make a bold statement and is perfect for pairing simplistic yet striking bathroom fixtures on top. Grey concrete, such as our revive concrete tiles, look stunning when paired with brass fixtures, whether it be lighting or shower valves.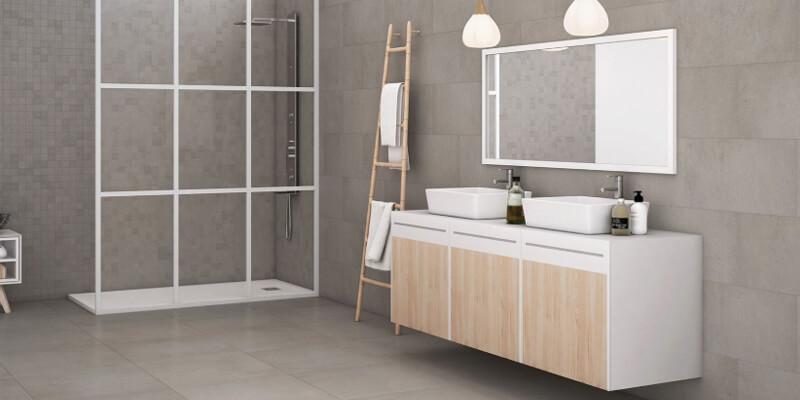 (RAK – Revive Concrete)
Ahmco's Denver range is sharp and sophisticated, providing you with a selection of accessories to enhance your bathroom design while keeping in tune with your contemporary style. The cutting-edge design of these accessories makes them ideal for bathrooms aiming to look beyond and into the future. These accessories are timeless and stunning, and can even allow you to incorporate a touch of eclectic design into your contemporary bathroom.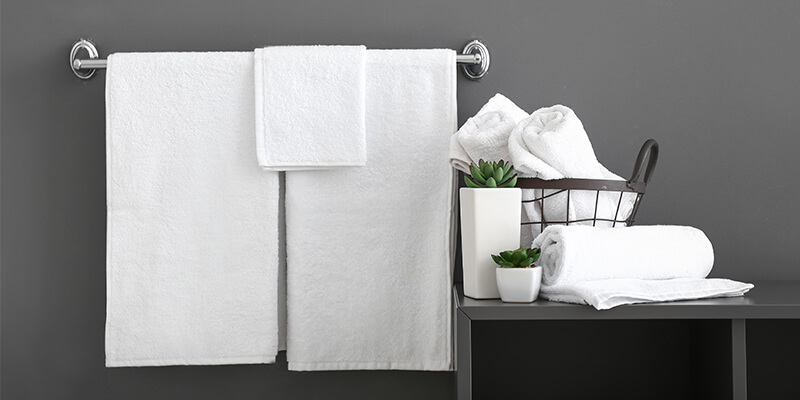 (Miller – Denver)
Modern trends tend to utilise lighting and wood-look materials, allowing you to place plants on window sills and on bathroom units to bring some colour into the room. For some quick inspiration, why not have a look at Elle Decors modern bathroom ideas!
Freestanding baths are a client favourite when looking to incorporate a modern design into the bathroom. Much like contemporary baths, the simplistic rectangle designs work best when creating this look, and can easily incorporate a touch of luxury through the use of a whirlpool. Modern design tends to be the complete opposite to eclectic, matching the design of the bath with the skin, and in some cases, the shower.
For those that do not have enough room to incorporate a freestanding bath, a fixed bath with tiles along the side is a fantastic way of combining some luxury while keeping to your style. The same tiles used on the floor can easily be brought up onto the bath to create a coherent and seamless finish to your design. If you would like both a shower and bath, but do not have the space to do so, then you can still create stunning modern bathroom styles through the use of exceptionally designed products. Houzz has a range of inspirational ideas on how you can style your bath with a built-in shower, and still have that luxury look you desire.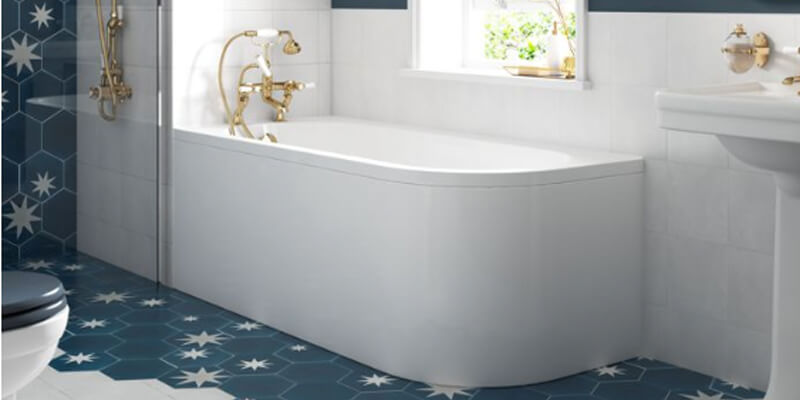 (BC Designs – Amerina Bath)
Some homeowners with modern bathrooms have opted for a wall panel to section off a wetroom with the rest of the bathroom. Wetrooms are a fantastic use of space; they're modern, stylish and functional. While having a wall may look sophisticated and unique, a glass panel will make the room feel bigger and brighter, enhancing your showering experience. Whether you have a small space to work with, or a large bathroom, shower screens can be bespoke to you, meaning that it fits perfectly into the space that you have to work with.
An industrial look is extremely popular with modern designs, using black and ash colours to create that New York apartment vibe. This can easily be achieved by using black features within your shower. There are two exceptional designs that spring to mind when designing a modern bathroom; a simplistic 'Saturn' showerhead (circular fixture that fits tp the ceiling), and a Aquablade handset (circular handheld showerhead). Both of these designs bring a sense of sharp elegance to your bathroom, heightening your design.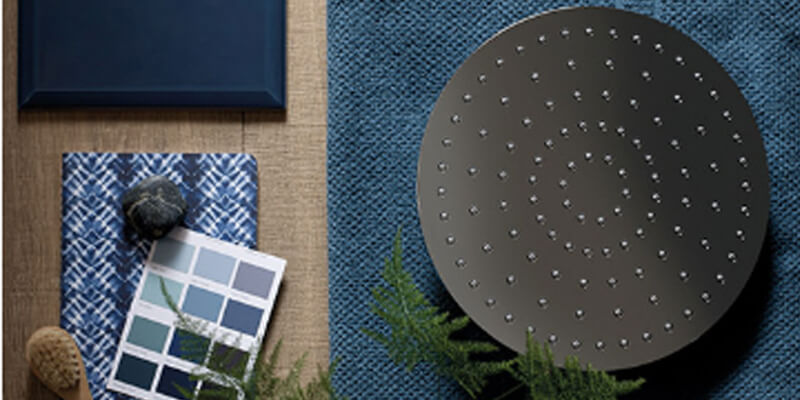 (VADO – Saturn Showerhead)
Modern design can be incorporated into various different other styles, giving a modern twist to just about any form of bathroom design. One of the favourite current trends is to have a marble sink on a colourful basin unit. This can easily be achieved by drawing out a colour from the rest of the bathroom and finding a basin unit that beautifully complements your bathrooms colour palette. We would suggest possible picking out a marble that intertwines the same colour as a white/grey base.
To achieve a modern style bathroom, either black taps or brass taps are ideal; this is because they perfectly match that industrial look that seems to be popular. This can easily be accomplished through our gold collection of basin mixers. You can find a design that best suits your style, from traditional to eclectic, through a touch of gold which can make anything modern.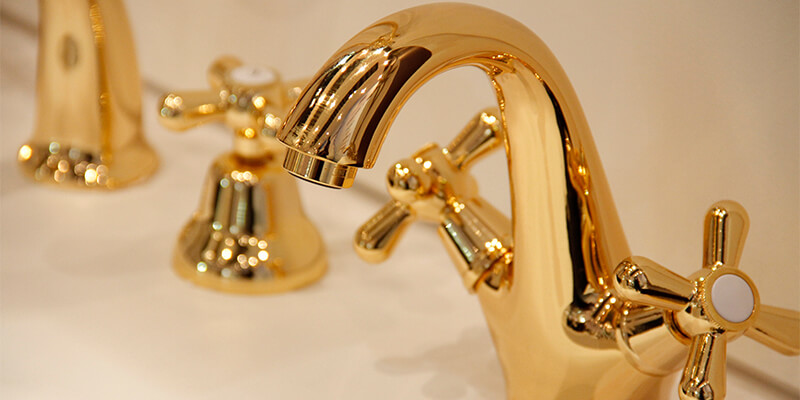 (VADO – Metallic Movement)
Flooring tends to be minimalistic when it comes to modern bathroom designs, with most bathrooms using marble on the wall and white tiles on the floor. The reason these tiles best suit modern style bathrooms, is that you can really see the basin mixers, showerheads, bespoke mirror and accessories stand out. Living Etc has some stunning examples of how to bring marble into your bathroom without going over the top.
(RAK – Medicea Marble)
Much like the contemporary style, the minimalistic approach works best for modern bathrooms. For this reason, using statement accessories can have just as much of an impact. Depending on the basin mixer and shower features that you opt for, will determine what type of accessories you include. For example, if you choose black taps, then our Bond Black or Atlanta Black range will help you to create a unified look. Whereas, untreated and brushed brass can help to elevate the exciting features within your bathroom.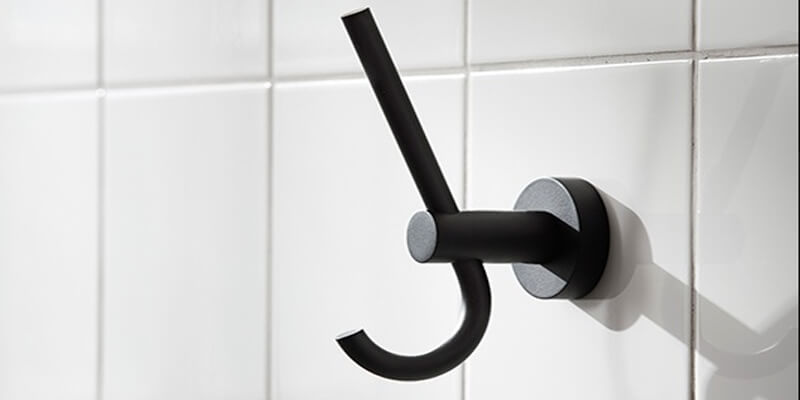 (Miller – Bond Black)
Designs Suited To You
All of the products and designs discussed for each style are available at Ahmco, along with a host of other beautifully designed bathroom fixtures and furniture. There are multiple ways that you can create a bathroom that best suits you and your style, incorporating a range of products to create a coherent, stunning and striking design. If you are looking for bespoke showers, sinks or baths in Harpenden or within the surrounding areas, feel free to contact the Ahmco team to start designing your luxury bathroom today.