Although the bathroom is used on a daily basis, it is often the one room in the home that gets the least love. It tends to be the case that bathrooms are only updated if there is a problem or you have recently moved into a new home, and the design isn't quite to your taste.
However, there is no reason why you cannot give your bathroom a little TLC merely to breathe a new lease of life into the space. Luckily, there are a number of super easy ways that you can transform your current design, ranging between both ends of the price scale. So, if you're looking for inspiration on how to modernise a bathroom, we're here with a host of bathroom update ideas ready for your bathroom installation in St Albans!
Ideas & Inspiration For Your Bathroom Update
Most bathrooms are designed in a timeless style, sticking to a clean, monochromatic scheme to ensure that the space can easily be updated in the future. Not only this, but a complete bathroom installation in Harpenden can prove incredibly costly, which may not always make it a feasible option. This means that for the majority of homeowners, bathroom remodelling is only required every 10 to 15 years, depending on the quality of your installation and products.
Whether you decide that an entire bathroom update is required or small changes can make a big difference, there are a wealth of ways that you can modernise particular aspects of your room. These will make a huge difference to the overall appearance of your bathroom, possibly even extending its lifespan even further. To get started, let's take a closer look at the following points: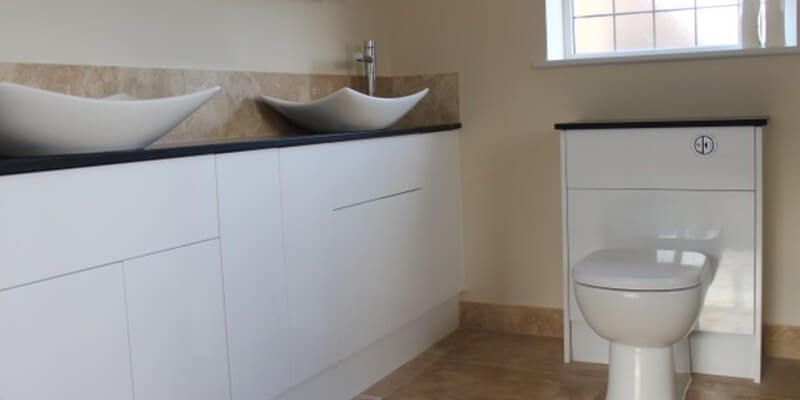 Investing in a bathroom remodel comes alongside a multitude of amazing benefits that you can take advantage of. In fact, one of the biggest benefits is that it can increase the value of your property, meaning that it is likely you will see a return on your investment. This is one reason why many of our clients choose to renovate their bathroom as soon as possible, so that they can enjoy their investment while also taking advantage of the increased resale value. Some other benefits that you can enjoy include the following:
Fully customised
Design a disability bathroom
Made to measure
Long-lasting and durable
Improves wellness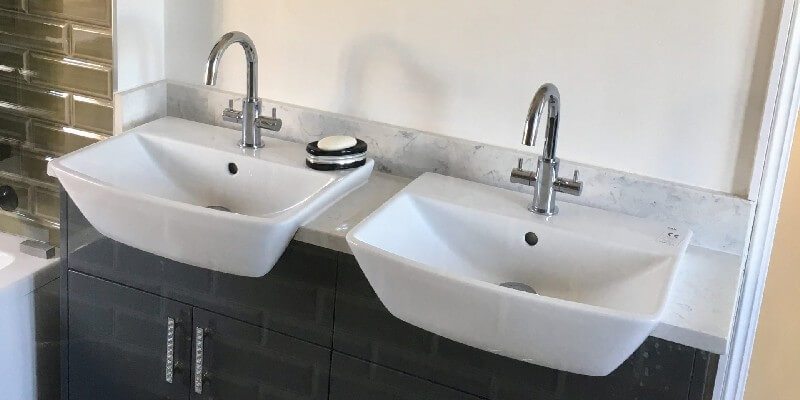 Now that we have run through the advantages of updating your bathroom, it is time to think about how to update your bathroom to reap these benefits. Luckily, there are tons of ways you can transform your bathroom with a host of customisable features to ensure that every aspect of your space caters to your requirements. Here are just some of our favourite bathroom updates:
Find More Inspiration By Subscribing!
Sign up to our newsletter for endless inspiration!
For many modern bathrooms, the vanity table can be the perfect opportunity to create a statement piece. From stunning bespoke mirrors to lighting that accentuates the sink area, there are tons of ways you can make your vanity stand out as the centrepiece of your bathroom. When designing your vanity with our team, you can choose from a host of floating and statement vanity designs, including your choice of colours and finishing touches. Whether you like contemporary, traditional or modern style bathrooms in Harpenden, there will always be a vanity that suits your style and aesthetics.
To start designing your vanity, we always recommend first thinking about how many sinks you wish to incorporate, as this can help to give you an idea of the style of vanity that would best suit your space. Next is finding a style that compliments the rest of your bathroom, and you can find an abundance of ideas for inspiration over on Home Designing. Houzz also has a helpful guide on how to update a bathroom vanity.
If you have a larger budget and looking for a way to completely transform the aesthetics of your bathroom, then installing a shower enclosure is a fantastic option. Shower enclosures are not only convenient, but they also tuck seamlessly into any corner of your room, creating a cohesive, neat appearance. It is then entirely your choice as to whether you opt for keeping both a bath and shower or maximise on space through a single, large-scale shower enclosure.
The beauty of a shower enclosure is that almost all styles can be designed bespoke to your bathroom, taking into consideration key measurements to create a shower that can encapsulate your interior design. Most of our clients choose a glass enclosure, which is excellent for creating the illusion of a bigger bathroom while also incorporating the luxury feel that we all dream of. Even the finishing touches such as hinges, handles and shower trays can be complete with a personalised touch for a space that you will adore for many years to come. If you're stuck for design ideas, then we suggest heading over to Living Etc for 42 beautiful examples of shower rooms.
Alternatively, if you are in the process of planning a shower enclosure installation and searching for reputable designers, then please do not hesitate to get in touch with Ahmco. With many years of experience supplying shower units in Chesham and the surrounding areas, bringing client's visions to life is what we do best.
The choice in tiling is often one of the biggest tell-tale signs of the age of a bathroom. In the past, colourful tiling with lots of detail was popular, whereas now, homeowners prefer more of a subtle, sophisticated appearance that plays on a minimalist aesthetic. You are also likely to find that older tiles show signs of age far quicker, becoming cracked and damaged, dampening the overall look of your bathroom.
With this in mind, replacing old tiles is a great way to modernise your bathroom, allowing you to easily adopt a brand new colour scheme. You could also consider maximising your use of tiles, installing the same tiling for both walls and the inside of your shower, for example, creating a united appearance that will future-proof your space. This is an excellent trick for those limited in terms of space as the more areas of the bathroom you can cover with the same colour and material, the bigger the space will look.
Once you have fitted your new tiles, it is essential to ensure that they are regularly cleaned to maintain the appearance of your bathroom. You can find a helpful guide on how to brighten tiles and grout over on Martha Stewart.

Nothing says luxury quite like an elegant freestanding bath placed perfectly in the centre of your bathroom. So, if you love the stunning appearance of freestanding baths just as much as we do, there is no reason why you cannot make this your method of modernising your space. However, we must note that this idea is only suitable for those with a slightly larger area to work with, as even the smallest standard freestanding bath comes alongside dimensions of 55 inches long and 27 inches wide. This means that you will have to accommodate more space than you would do so a conventional bath while also allowing plenty of room for additional plumbing.
Nevertheless, should you be lucky enough to have a reasonably sized bathroom, then the possibilities when searching for the perfect freestanding bath are endless. There are a host of materials to choose from, including cast iron, copper and acrylic, all of which beautifully complement a modern bathroom. You are now even able to find fixtures designed from natural stone, creating a super rustic yet opulent look. Take a look at Real Homes for an excellent article featuring more freestanding bath styles to consider.
For a less intrusive way to modernise your bathroom without the need for professional help, why not maximise on your lighting? There are a wealth of different ways that you can add a contemporary touch to your bathroom through lighting, instantly creating a brighter, airier atmosphere. Just some of the many lighting styles to consider include the following:
Task Lighting – Ideal for placing either side of your mirror, task lighting is designed to allow you to wash, shave and apply makeup with ease. You can either opt for a mirror equipped with LED lights or choose decorative lamps to fit onto the wall.
Recessed Downlights – By far the most modern lighting choice is recessed downlights, which are small spotlights that create the appearance of light streaming down from small holes in the ceiling.
Spa-Inspired Lighting – Bring the tranquillity of the spa to the comfort of your home by installing spa-inspired lighting. Our favourite designs are those that are placed in the corner of the room and shine upwards with a warm glow.
Once you have installed new lighting, you can further enhance your space by fitting a new mirror. Much like tiling, mirrors are an excellent choice for smaller bathrooms, as the light bounces against the surface and creates the illusion of a larger room. Mirrors are also a fantastic choice for those hoping to keep the interior design of their bathroom simple, as it can be used as a decorative touch.
It's no surprise that bathroom flooring can become damaged over time, whether it may be through water or general wear and tear. This not only dampens the appearance of your bathroom but can also cause significant water damage, which means that should you begin noticing problems, it's vital to schedule a replacement as soon as possible. The most common signs of damage that you should look out for include mold build-up on surfaces, soft flooring and bubbling.
When planning your bathroom floor replacement, there are many factors that you should consider, the most important being the material that you will opt for. For a modernised appearance, vinyl, stone, and slate are all great options. Vinyl is often the most cost-effective yet is more than capable of withstanding the conditions of your bathroom without deteriorating. There are also tons of different styles available, many of which are designed to replicate the look of costly materials, such as wood or marble.
Should you have the budget to invest in a more expensive alternative, on the other hand, then slate flooring is currently one of the most popular contemporary styles. Grey or charcoal-coloured slate, in particular, add a super luxurious feel to your bathroom, allowing you to adopt a darker colour scheme for something a little more unique. If you adore the idea of a dark bathroom just as much as we do, then you can find a host of inspiration on both DigsDigs and One Kind Design.
The key to modern interior design is simplicity, which means that keeping clutter at a minimum is essential. So, if you have noticed that you lack space to store away your belongings, then enhancing your storage will be a fantastic way to transform your bathroom. Luckily, there are endless ideas on how to incorporate clever storage solutions into even the smallest of bathrooms, making finding the best-fitting option for your home a straightforward task.
One of the easiest ways that you can increase storage without sacrificing valuable space is to use the areas underneath your sink to your advantage, just as you would do so in the kitchen. As opposed to having only a basin and pipes concealed inside a covering, you can instead place your sink on top of a vanity, providing plenty of extra shelving, which can be tucked away behind a cupboard door. If this idea strikes your interest, then please do not hesitate to get in touch with Ahmco for more information on our bathroom sinks in Milton Keynes and the surrounding areas. All designs are created bespoke to you, taking into consideration your vision which means that storage can be incorporated for a modernised finish.
Last but most definitely not least, are the finishing touches. This is perfect for those who like the main fixtures and fittings of their bathroom, but want to add a touch of character without spending a fortune. Replacing accessories is a super quick and easy way to revitalise the space while keeping costs low.
But where do you start, we hear you ask? Well, the best route is to assess your bathroom and spot any accessories that are beginning to look a little dated. Whether this may be old toothbrush and soap holders or even the tap and towel rack, starting with those that you know are dampening the aesthetics of your bathroom will always be the best route. Once you have replaced these with your chosen style, you can then slowly start to update other aspects with the same design theme. We would also recommend incorporating life into your bathroom with plants as these are not only key in modern interior design but also come alongside a wealth of health benefits, creating the perfect haven for relaxation. Take a look at The Spruce for a full guide to the best houseplants for the bathroom.

Modernising Your Bathroom Is As Easy As That!
Modernising your bathrooms in St Albans needn't be a tedious task, and there are a host of easy ways to add a contemporary touch to your space, regardless of your budget. The key is first to consider whether it would be more beneficial to schedule a complete refit or whether replacing a handful of features would allow you to revitalise the room. If you are in need of inspiration or unsure of the best solution for your bathroom, then the Ahmco team are always just a phone call away!
Ready To Design Your Bathroom?
Why not book a consultation with our team?