Renovating your bathroom includes more than just searching for some quick inspiration on Instagram. There is, in fact, a lot of features that you will need to think about when designing your bathroom, from the colour scheme and materials you use, to the bathroom layout and fixture sizes. For this reason, it can be hard to find bathroom ideas that match your aesthetic requirements while also providing a functional space to relax and unwind. As specialists in bathrooms in Harpenden, we have a host of styles, products and designs that you can incorporate into your very own bathroom. We have pieced together a few designs that can be rearranged to perfectly fit your bathroom, and our team are just a phone call away to start bringing your dream bathroom to life.
Bathroom Ideas & Advice To Help With Your Renovations
Everything from bathroom accessories to showerheads and valves can be added into your bathroom design until the bathroom looks exactly how you imagined. If you haven't found the perfect products yet, then when working with our team, you can show as many images and ideas as you wish, and they can start to create your dream bathroom through high-quality and luxury solutions. You will then be presented with a digital design with all of the features and products that you wish to include.
We understand it can be hard to create a design from scratch, which is why we have put together a few ideas and designs for inspiration: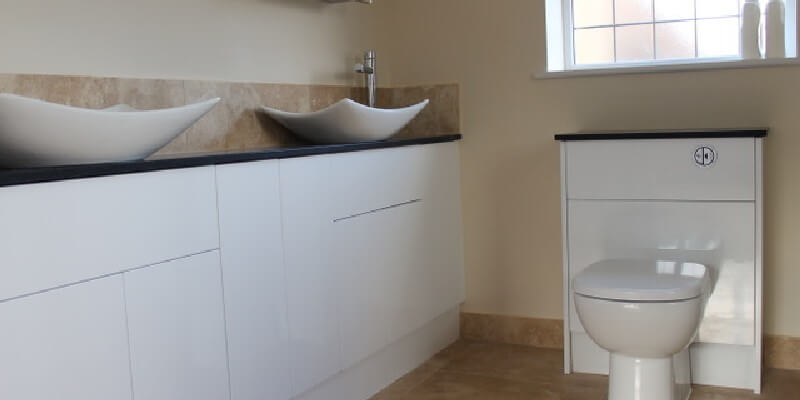 While adding a loft conversion is great for maximising space in your home by transforming an unused loft, it can lead to awkward ceiling shapes. Sloped ceilings often mean that your bathroom is not able to accommodate your favourite bathroom design. However, with some careful planning, bespoke and made to measure fixtures, you can create a layout that allows you to utilise all of the space within your bathroom.
Depending on the size of the room, you can fit a host of products into the space by being clever about placement. For example, if you take a look at the design we have created below, you can see that a steam room has been designed to fit inside the slope. When working with the team, you can design a made to measure glass screen for steam rooms and enclosures, which allows you to fit the shower into any tight corner and awkward shape, making it perfect for a loft conversion bathroom design.
In this design, we have also placed the toilet inside the small area to ensure that it did not waste space, allowing you to utilise all other areas of your bathroom. For instance, in the design, we have decided to place a shower enclosure at the far end of the bathroom. In order to break the room up, a blue panel has been incorporated into the design; this panel can be any colour you wish and is a great way of tieing in your homes interior design style and colour scheme while maintaining a calming essence.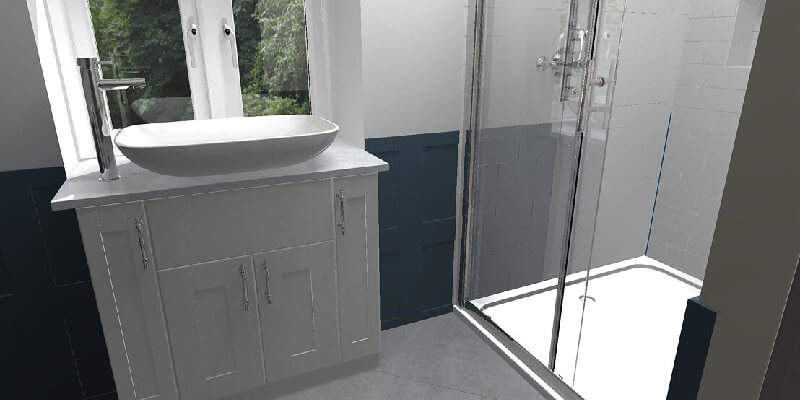 A small bathroom does not mean that you are unable to create a stunning bathroom design that radiates chic and effortless class. When creating a design for a smaller bathroom, we recommend using lighter colours, as this will allow the space to feel bigger. As well as this, incorporating a bespoke shower enclosure allows you to further make the space feel more open by designing a seamless frameless screen.
As you can see in the design below, even the smallest of areas can be used for a shower enclosure, and by incorporating white tiles and made to measure screen with chrome door hinges, the space feels much larger and open. Further enhancing the spacious feel of this design, we have introduced a large wall mirrored unit with lights, which will allow the light to bounce off the mirror and around the room while also offering a modern touch. This is ideal for small bathrooms with little storage, as it provides you with functionality and style. Additionally, the marble tiling around the bathroom beautifully complements the white tiles and chrome features. By adding a touch of definition through the tiling, it allows you to style your bathroom without compromising space.
When working with our team to bring this design, or a similar design, to life, you can take full advantage of our bespoke range of products. Work with the team to design your very own mirrors, which can be placed from wall to wall, in awkward areas and incorporate LED lighting. We also provide other bespoke products such as bathroom furniture, shower enclosures and disability bathrooms. Please feel free to give our team a call to discuss a range of small bathroom ideas and start piecing together a host of products to accommodate your requirements and style.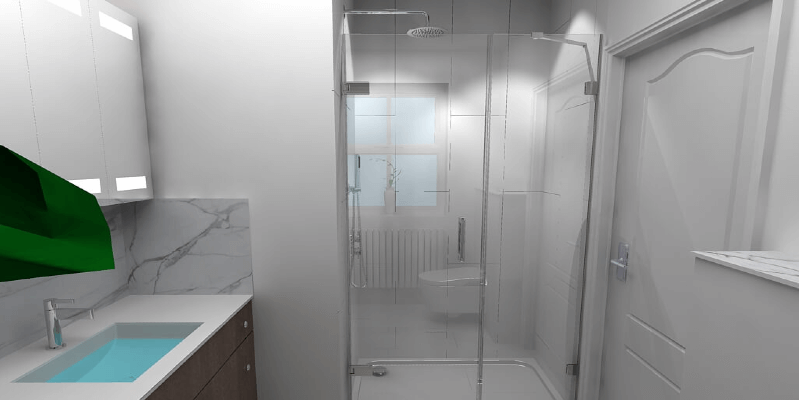 A popular feature for modern bathrooms is to have a walk-in shower as it not only provides effortless sophistication and stunning style but it also offers a functional feature. Walk-in bathrooms are perfect for creating a simple design that maintains an open space and creates an eye-catching feature while not taking too much limelight away from the rest of your design.
Our contemporary style bathroom design featured below is a great example of how a bespoke walk-in shower can be incorporated into your design. For this design, we have used stunning large grey tiles to create a soft and relaxing ambience, which is then paired with white fixings and a shower tray to bring soft definition into the space. To allow the walk-in shower to effortlessly flow with the rest of the design, we have added a frameless glass shower screen, which, as you can see from the design images below, creates a spacious feel with a simplistic contemporary aesthetic.
The walk-in shower in this design can be tailored to your home, as our shower screens can be made to measure, making it perfect for smaller bathrooms that wish to maximise space. The shower tray, basin and toilet colour can also be changed, along with the tiling, allowing you to further personalise your new bathroom design.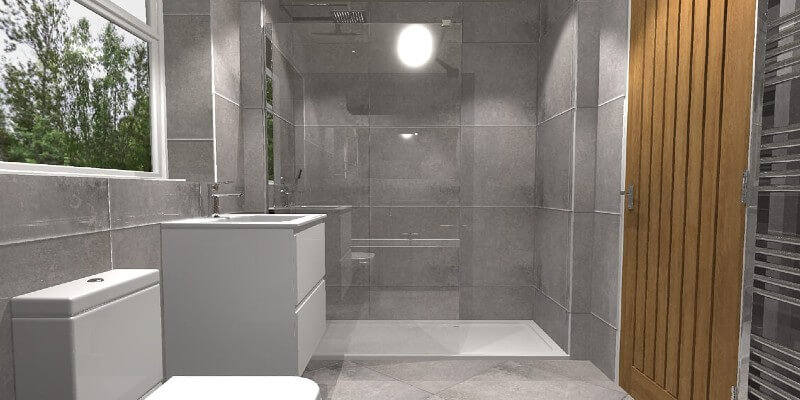 Modern bathrooms are one of the most popular styles, with marble tiling and grey features creating a stylish combination. When it comes to adding marble to your bathroom design, you can choose to have it as a main feature within your bathroom or add subtle touches through tiled sections; this is ideal for creating areas within your bathroom, such as the shower. In our design, we have chosen to add marble tiles throughout the bathroom along the walls, with large white tiles on the floors to create a beautiful subtle contrast. While white and grey marble are extremely popular, you can choose from a selection of marble designs from our suppliers, RAK.
The key to creating a modern bathroom is to choose a colour scheme, but unlike contemporary bathrooms where the majority of the room is covered in light greys, creams and pure whites, you can play around a little more by introducing different shades and patterns. In our design, for example, while subtle, you can see that the wall tiles are installed with a slightly different formation compared to the floor. The units under the sink are also a darker grey compared to the light marble grey, all of which is brought together through the use of white tiling and fixtures.
Both chrome and gold fixings such as showerheads, valves, sink taps and even radiators are also extremely popular with modern designs. We have chosen to incorporate chrome fixings as this pairs well with grey. However, if you would like to adjust the design, then our team can add gold fixings paired with a distinct white tile with black marble. The units under the sink can also be adjusted in colour and style to match your aesthetic.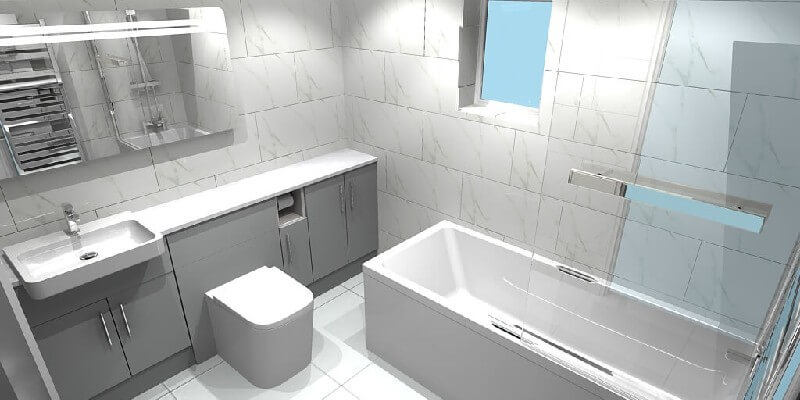 As well as modern, grey bathrooms have become a growing trend over the years, with many of our clients looking to add a hint of grey features to their bathroom, whether through fixtures or tiling. We love designing grey bathrooms as there are many ways that you can add definition and character to the room through shades, patterns and textures. This means that while you may be focusing on one colour, there are many ways that you can create a striking design that incorporates a range of features.
As looking for grey bathroom ideas is a popular choice for many, we have provided you with a grey bathroom design below that can be completely tailored and altered for your bathroom size. To create a mixture of textures, we have incorporated a stunning contemporary style grey floor and a textured grey wall inside the shower enclosure with a grey shower tray. All three of these features provide a unique surface and different shade of grey to create an eye-catching design when all pieced together.
As our design showcases, the best way to use grey inside your bathroom is to introduce an array of shades. By doing this, you can create each section into zones, so while they all combine into a stunning and elegant design, each feature showcases its own unique characteristic.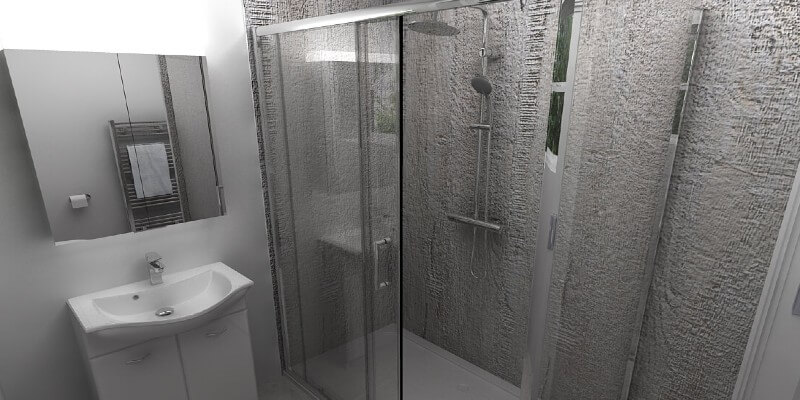 Wish Your Bathroom Had These Designs?
All of the designs featured in our article have been created by our very talented team, who have been helping clients design bespoke bathroom installations in St Albans for many years. With a host of experience and products to choose from, our team can take your style and requirements and transform them into a stunning luxury bathroom that incorporates functionality and aesthetics. If you have seen a design that has caught your eye, or would like to discuss with us how you can design your new bathroom suites in Chesham and the surrounding areas, then please feel free to give our team a call!