Bathrooms are the ultimate haven for you to sit back, relax and enjoy the luxury of refined design. There are many possible bathroom styles, and it can be tough to know which one is right for your bathroom and how to achieve it. With a rough idea and some professional help, you can create your dream space. So, to lend you a helping hand and give you some inspiration, here is our guide on how to style a bathroom.
Our Guide To The Best Bathroom Styles
Every homeowner has their own style that they want to portray through their home interior design, whether it be modern or eclectic. This is easier to achieve than you may think, and with years of knowledge within the industry, the Ahmco team can bring your vision to life through a range of high-quality and luxury products. Here are the four main styles: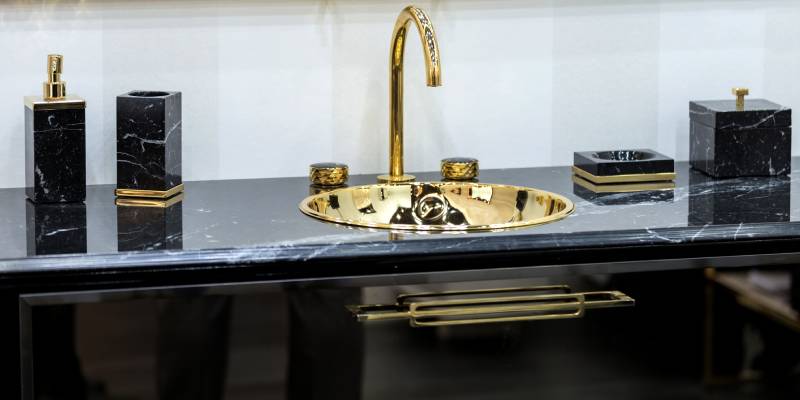 Choosing between different bathroom styles can be challenging. Thankfully, there are a few things to consider which can help you decide how to style your bathroom. For example, what is the style of the interior decor in the rest of your home? This is a good indication of your personal style preferences and can help guide you when choosing bathroom units. If you are confused about the different bathroom styles you can get, this article will introduce you to four popular styles and show you how to recreate them in your home.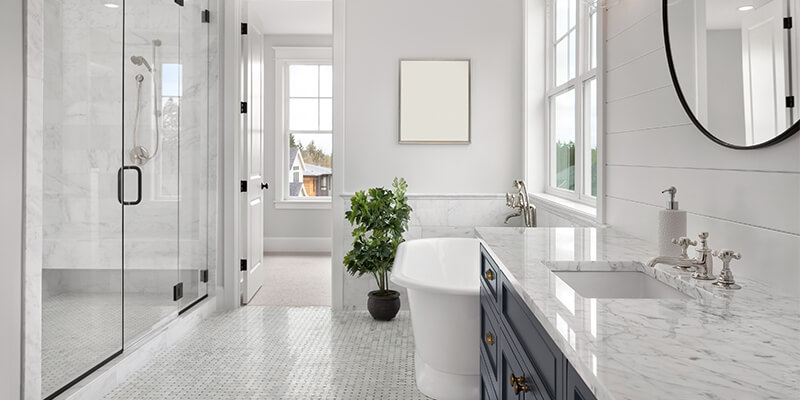 With the wide selection of products available, the eclectic style is one of the best ways to incorporate every item that catches your eye in a stunningly put together design. For example, if you like a touch of traditional style with a hint of modern flair, you can perfectly pair items together to create a luxury bathroom design. With the wide range of bathroom fixtures and accessories available here at Ahmco, specialist designers can help you transform your outdated bathroom into an elegant, eclectic piece of art. Here are some ideas for different bathroom features in this style:
Bath
When it comes to the bath, you can choose between an extravagant statement piece or a simple yet stunning design. For an eclectic bathroom, we would always suggest meeting somewhere in the middle. The acrylic boat bath with an aluminium trim is extremely popular in eclectic bathrooms due to its simple design with a touch of colour to beautifully compliment your chosen flooring. These baths often come in various colours, of which you can either match or contrast with your colour palette. The aluminium rim at the bottom of the bath can be perfectly matched with luxury taps and showerheads to create a seamless finish to your bathroom design. A freestanding copper bathtub is an excellent choice for a more striking look. These can easily be matched with an array of bathroom fixtures for a cohesive bathroom design.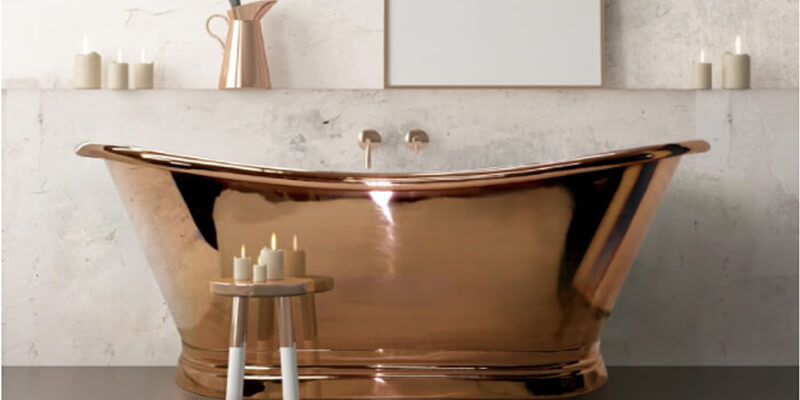 (BC Designs – Copper Boat Bath)
Shower
The shower is the perfect location to showcase intricate tile work and sleek fixtures. If you are after a striking look, opt for a black shower head and valves to create a stunning contrast against a light wall and shower tray. When it comes to the shower enclosure, there are numerous customisable features that bring the design together. For example, you can even choose your door hinges for that ultimate high-end feel. Ahmco professional designers and installers strive to bring your vision to life and can design an eclectic bathroom with all the added shower elements to elevate your design to new levels of luxury.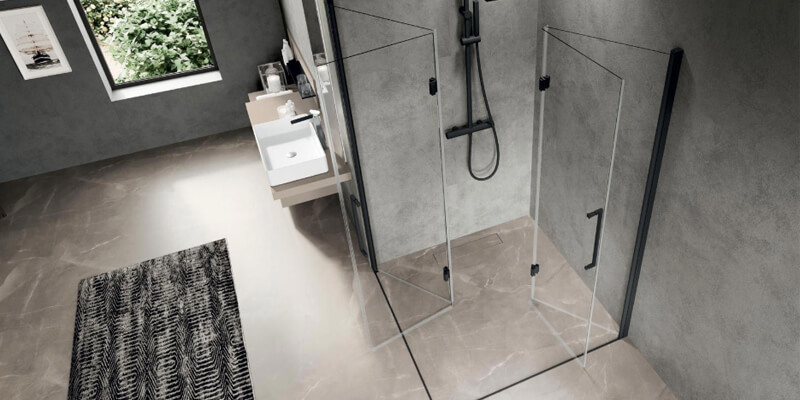 (Novellini – Zephyros)
Sink
The sink tends to be where the eclectic design comes to life. From the basin mixer to the mirror and other accessories, everything acts as a masterpiece, incorporating different style ideas to create a unified and artistic design. The key to this style is combining crisp and sharp colours with soft tones. For example, a dark navy floating draw with gold handles and a white basin is an easy way to make a statement in your bathroom design. To finish off the design, pair it with some gold taps and a feature wall, along with a stunning decorative mirror. For some more eclectic sink design ideas, take a look at this article by Houzz.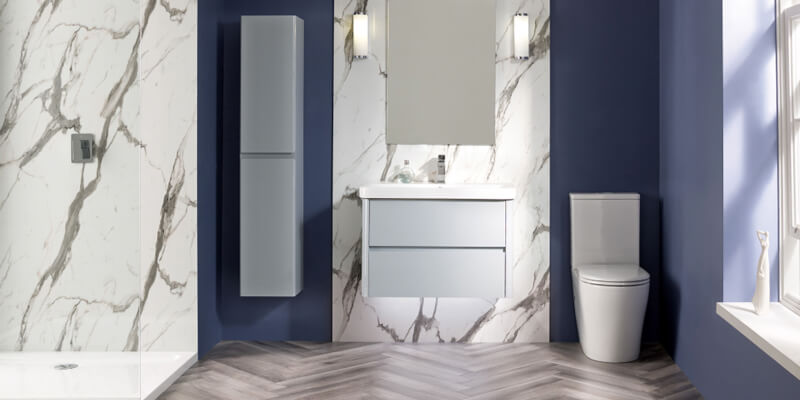 (Calypso – Brenta)
Tiling
When selecting tiles for an eclectic bathroom, choose a pattern that sets the tone for the room and incorporates your colour palette. We would suggest opting for a patterned tile for a more striking design. To create a stunning feature wall, some clients like to have this tiling on one wall, perhaps behind the sink. Marble design tiles look gorgeous in eclectic bathrooms for a more neutral look. The Spruce suggests an array of beautiful floor designs which create that luxury feel with a hint of quirkiness.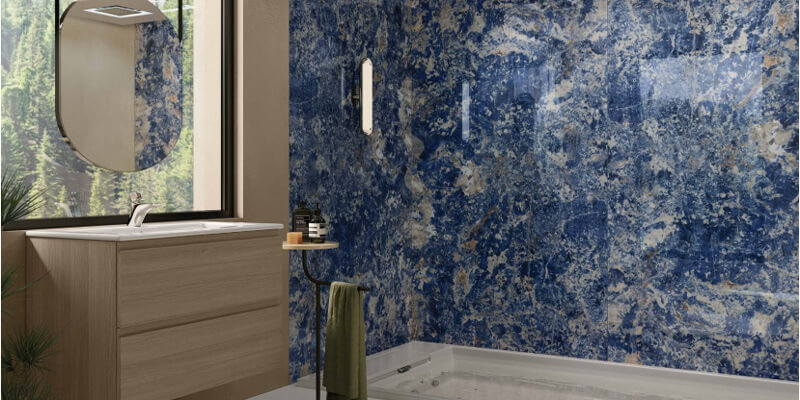 (RAK – Bahia)
Accessories
Bathroom accessories add that final touch of luxury to any bathroom style and can be perfectly matched with the rest of your bathroom. From toilet roll holders to towel rails and soap dispensers, Ahmco can install a range of luxury accessories when designing your bathrooms in Harpenden. If you have opted for copper finishes, our Bond brass range is ideal, providing you with a selection of accessories for a cohesive look.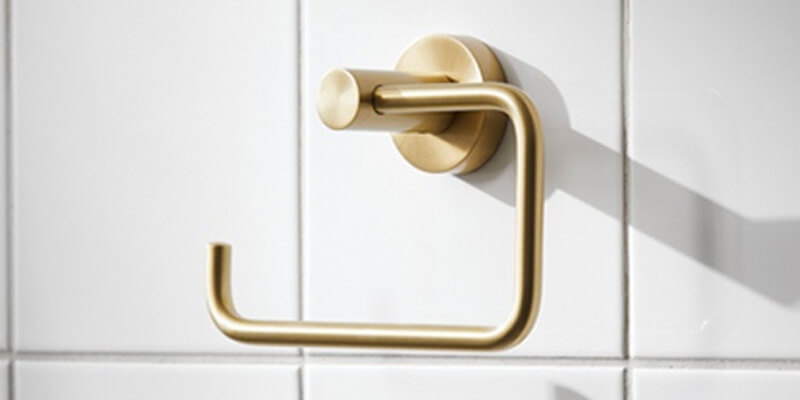 (Miller – Bond Brushed Brass)
Many clients associate the traditional style with tacky, old fashioned tiles and rusting fixtures. However, our team uses products made in a classic aesthetic but with modern materials and techniques, all of which are used to design our traditional bathrooms in Harpenden and the surrounding areas, offering a space that is elegant and tasteful to the modern eye.
Bath
Traditional baths tend to be oval-shaped and generally stay within the light colour range. However, this doesn't mean that you can't add some excitement to your washroom. While a freestanding bath that sits directly on the floor may be more traditional, a stunning bath with detailed feet can add a wow factor to a simplistic bathroom design. If you decide to go for a bath with chrome feet, you can match it with chrome taps for a seamless look.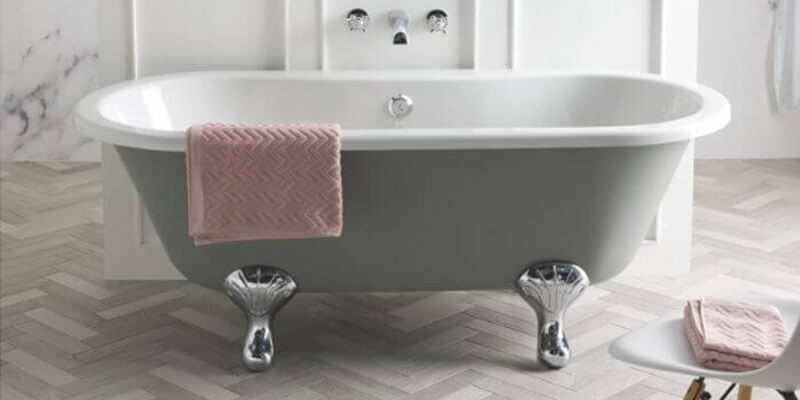 (BC Design – Elmstead Bath)
Shower
Traditional designs don't necessarily mean old fashioned! You can easily give the classic style a modern twist with your shower design. From the colours you use for your shower tray to the showerhead and valves you choose, a shower unit is far more customisable than you may think.
To keep with the traditional style, go for elegant pipework and bowl-shaped Victorian showerheads. Ensure that you can showcase the interior of your shower properly with a bespoke, perfectly fitted glass enclosure.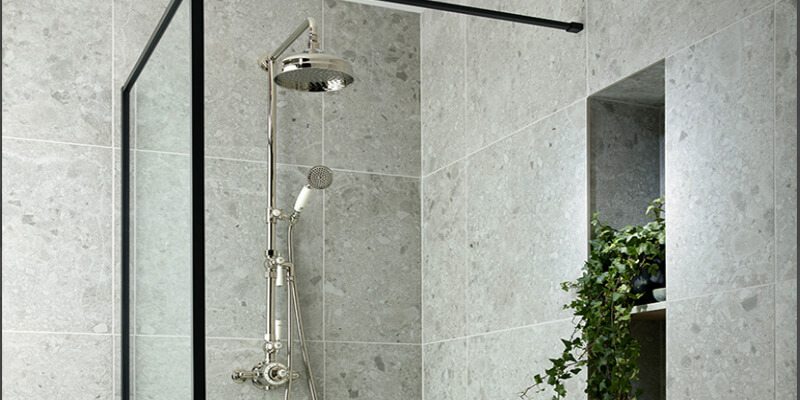 (Vado – Axbridge Showering)
Sink
When it comes to sink design for your traditional bathroom, the furniture you use is just as important as the fixtures you opt for. Bronze taps matched with your shower head will give a seamless finish to your bathroom design, adding a touch of traditional flair without making the room outdated. Our specialist designers can help you to match the finishes of your basin mixer and shower fixtures for a unified look.
We recommend incorporating matching sink and toilet units into your traditional bathroom for a luxurious, classical feel. Our Kingsbury range is ideal for creating this look, offering a slight touch of vintage elegance, beautifully complementing a modern design.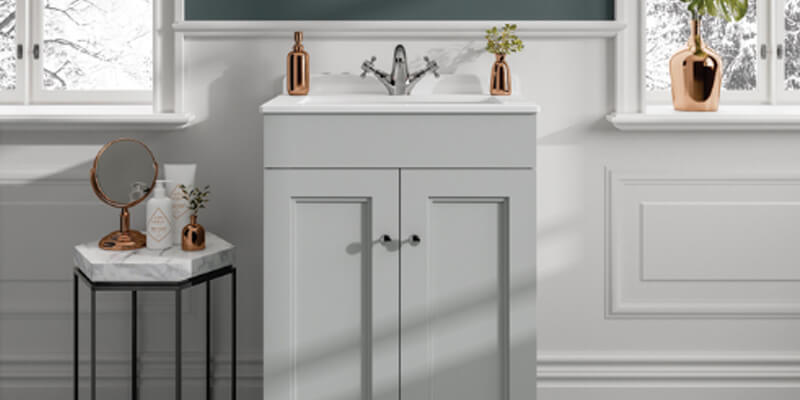 (HIB – Kingsbury)
Tiling
You can easily use tiles to set the tone for a traditional bathroom. A trend in traditional bathroom designs is to have brown/beige coloured tiles paired with glass features. For example, this bathroom on Pinterest demonstrates how the colour of the tiles brings a modern twist to the traditional design, making it feel clean, fresh and luxurious. Detroit metal style tiling can help you achieve this look and looks stunning when paired with brass fixtures and features.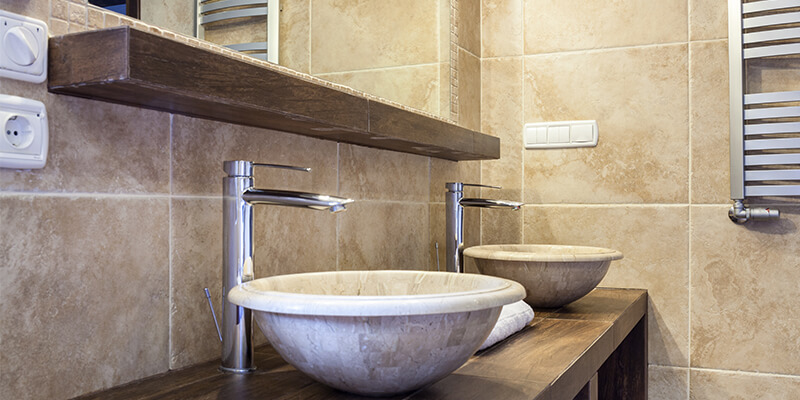 (RAK – Detroit Metal)
Accessories
While you may be opting for a more traditional look, it doesn't mean that you can't create luxury through an array of accessories. Ahmco's Richmond and Stockholm range provides you with exceptionally designed features that enhance your design. Whether designing a small cloakroom bathroom or the main bathroom, towel rings or rails can be incorporated depending on the size you have to work with.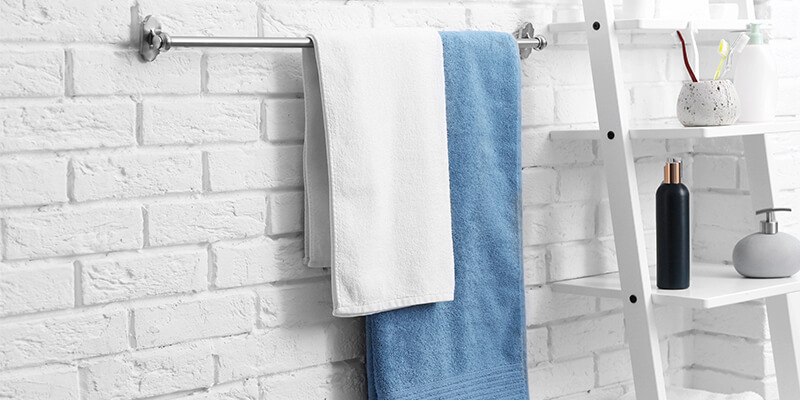 (Millers – Richmond)
Contemporary bathrooms are sleek and stylish, offering high-end performance with a luxury essence. Simplicity is key to achieving this look, but that doesn't mean that you can't have some fun with your design!
Bath
Contemporary baths are crisply-shaped and elegant with an air of luxury. We recommend elevating your bathing experience with jets and whirlpool features for a truly contemporary energy.
Ahmco provides whirlpool baths within our Wellness designs, which come with an abundance of potential health benefits. These features add a whole new level of relaxation to your bathing experience, with a selection of different designs available to suit your desires.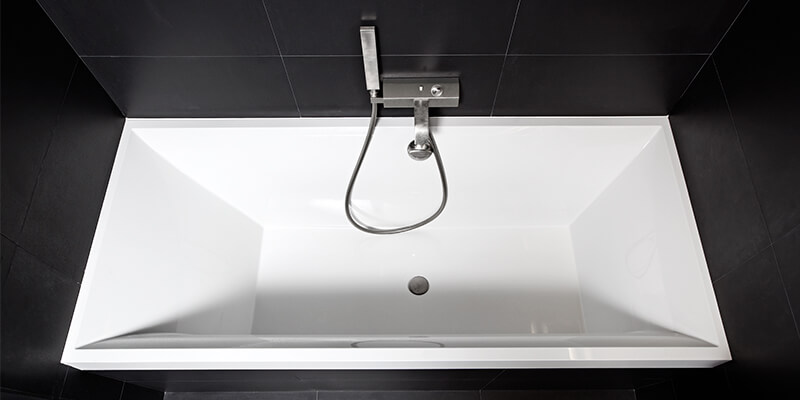 (BC Designs – Murali Bath)
Shower
For a contemporary shower, keep it simple with a few luxury touches to give you that relaxing feeling every time you hop in. For the ultimate futuristic feel, go for a Digital Shower with Smart Touch technology to enhance your shower experience, providing you with the ability to regulate the temperature, pressure and even play music.
We suggest a slate shower tray matched with glass panels and a black frame for the shower enclosure to achieve the perfect contemporary look. Real Homes shows some stunning examples of this design and many others which can be used to create a luxury contemporary bathroom.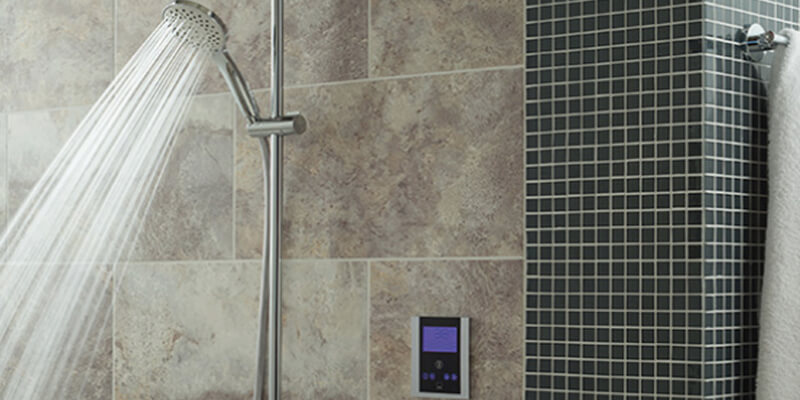 (VADO – Sensori)
Sink
Wood, slate and chrome create a sleek scheme for your contemporary bathroom, with an aesthetic mix of textures and colours. This combination helps to create a simple but stunning visual effect, perfect for a contemporary bathroom. B&Q offers some stunning examples of this which can be used as inspiration for your own contemporary sink design.
Once you have a rough idea of what you would like to achieve, Ahmco specialists can piece together a design through our range of products and brands for your bathroom refurbishment in Harpenden or one of the surrounding areas. For example, our Notion tap range from VADO perfectly complements a HiB Vessel washbasin, creating a spa-like feel with a classic cutting edge design.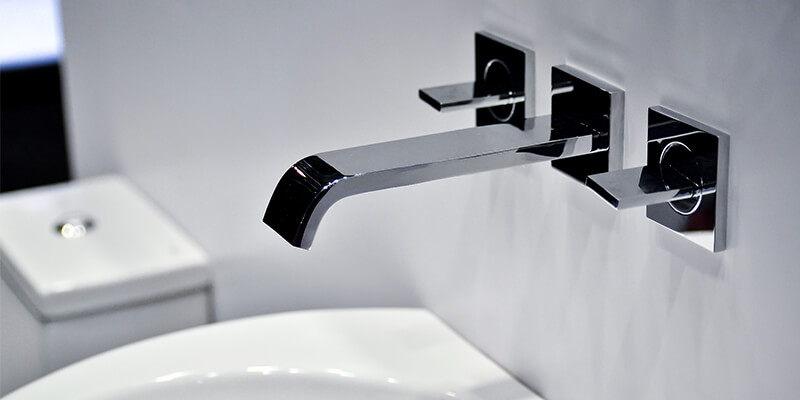 (VADO – Notion)
Tiling
When it comes to tiling a contemporary bathroom, various tile designs and materials can complement the style. A concrete floor can make a bold statement and is perfect for pairing with simplistic yet striking bathroom fixtures. Our grey Revive concrete tiles look stunning when paired with brass lighting and shower fixtures.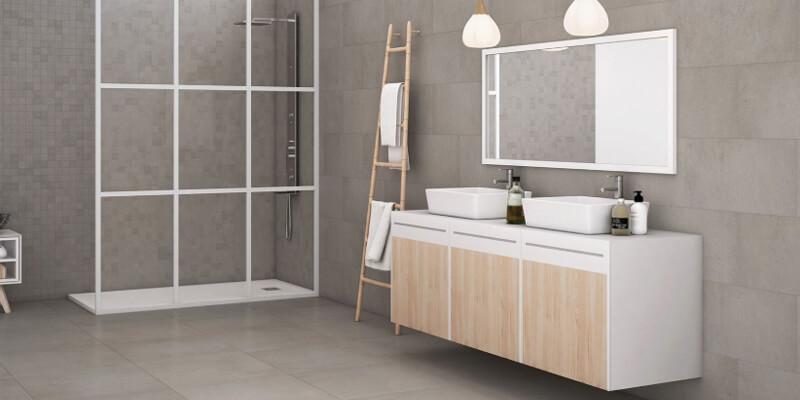 (RAK – Revive Concrete)
Accessories
Ahmco's Denver range is sharp and sophisticated, providing you with a selection of accessories to enhance your bathroom design while keeping in tune with your contemporary style. The cutting-edge design of these accessories makes them ideal for bathrooms aiming to look beyond and into the future.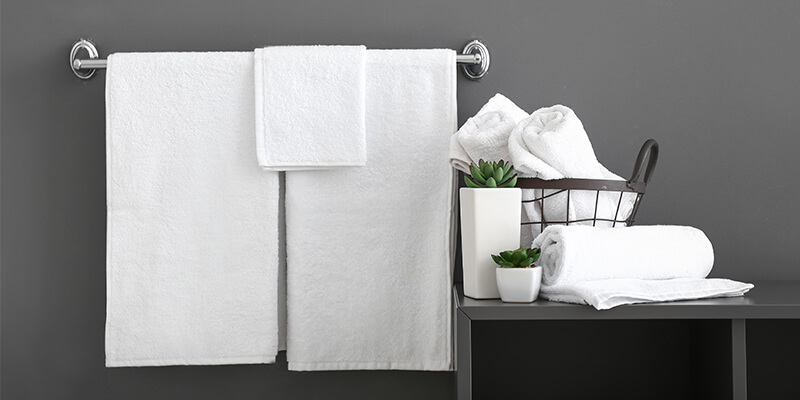 (Miller – Denver)
Modern bathrooms are sleek and fresh, utilising bright lighting and wood or brick style materials to add an earthy feel to a crisp environment. For some quick inspiration, why not have a look at Elle Decors for some modern bathroom inspiration?
Bath
Freestanding baths are a client favourite in modern designs. Simplistic rectangle designs work best for this style with added luxuries such as whirlpool functions. Modern designs should be highly cohesive; try to match your bath, sink, shower and toilet units for the ultimate modern aesthetic. If you would like both a shower and a bath but do not have the space, you can still create a stunning modern bathroom using exceptionally designed products. Houzz has a range of ideas on styling your bath with a built-in shower to have that luxury look!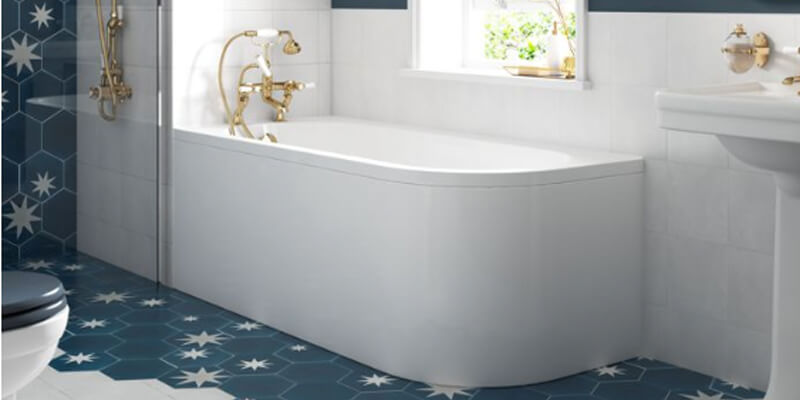 (BC Designs – Amerina Bath)
Shower
Some homeowners with modern bathrooms opt to section off a wetroom from the rest of the bathroom with a glass or wall panel. Wetrooms are a fantastic use of space; they're modern, stylish and highly functional. At Ahmco, we design bespoke shower enclosures and walls to fit whatever space you have to work with. You can get in touch with our team if you are interested in bathroom installation in Harpenden or the surrounding areas.
Industrial looks are extremely popular in modern designs. This style can be achieved using black or ash coloured features in your shower for the perfect New York apartment vibe. We suggest a large circular 'Saturn' showerhead paired with an Aquablade handset. Both of these designs bring a sense of sharp elegance to your bathroom, heightening your design.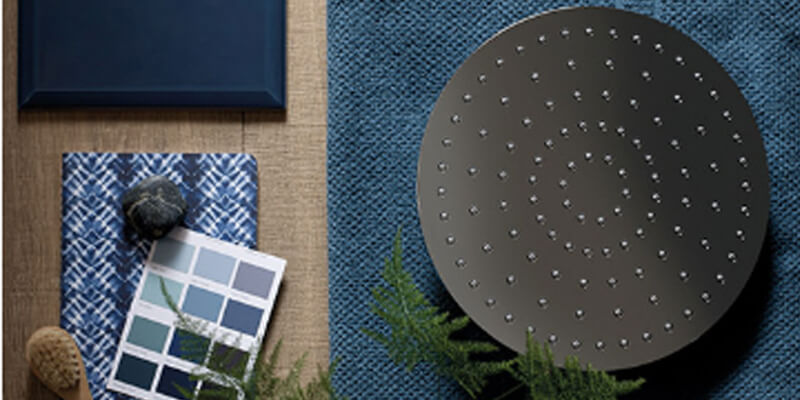 (VADO – Saturn Showerhead)
Sink
One way to add some excitement to your modern bathroom is to place a marble sink over a colourful basin unit. You can choose the colour of your basin unit by drawing a colour from the rest of the bathroom that works well with its general colour palette for a seamlessly stylish design. Black or brass taps are the ideal choice to go with your elegant basin-unit combo and maintain that New York industrial look. Our gold collection of basin mixers ranges from traditional to modern, giving you the option to add an eclectic touch to your contemporary bathroom.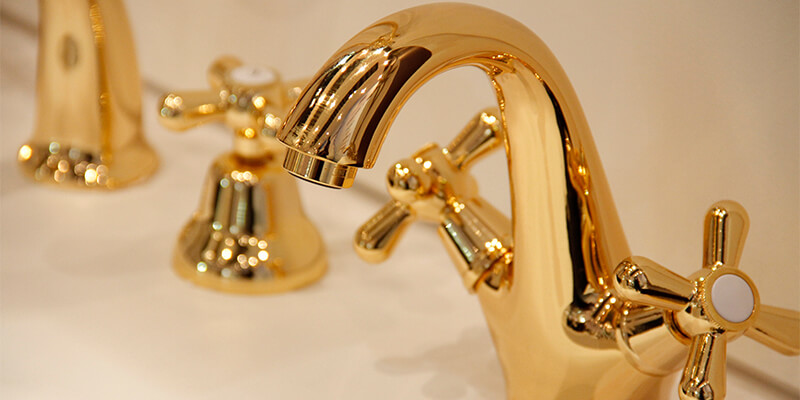 (VADO – Metallic Movement)
Tiling
Modern bathroom designs really pop against minimalistic, neutral flooring and walls. Popular choices include black, white and marbled tiles. Living Etc has some stunning examples of how to bring a marble design into your bathroom surfaces to achieve that classy look without going over the top. We suggest incorporating red brick or wood into your walls or surfaces for a more industrial look. Visit Houzz for some inspiration on how to do this!
(RAK – Medicea Marble)
Accessories
When it comes to modern bathrooms, less is more! This is why we recommend choosing accessories to coordinate with your basin mixer and shower features to avoid having too much going on. For example, if you choose black taps, our Bond Black or Atlanta Black accessory range will help you create a unified look.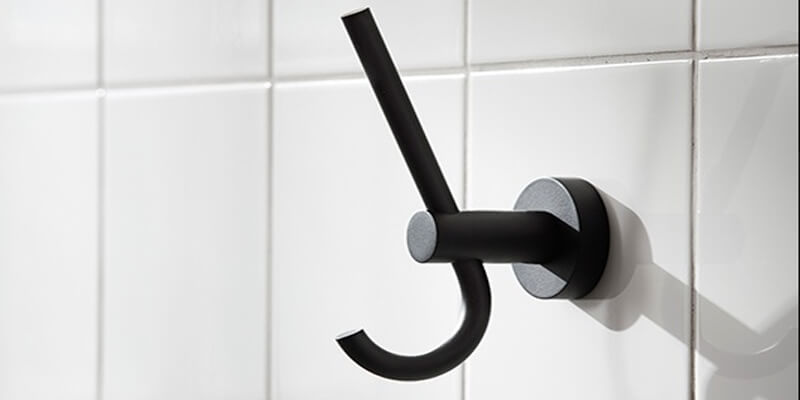 (Miller – Bond Black)
What Are The Best Bathroom Styles For Small Bathrooms?
No bathroom is too small to be excluded from a certain style. Check out our previous article for some inspiration on maximising space in a small bathroom.
How Do I Choose A Bathroom Style?
The bathroom style you choose should be something that you won't get bored of or start to dislike once it's no longer the top trend. We hope that this article provides you with some inspiration to help you choose a style!
What Are The Current Bathroom Trends?
While contemporary and modern bathroom styles are popular, relatively new and fast-growing, eclectic and traditional styles are timeless and sure to stick around!
Feeling Inspired & Ready To Start Designing?
We hope that our article helps you to understand and choose between the different bathroom styles so that the bathroom of your dreams can be yours. All the stunning products and designs discussed for each style, along with a host of other beautifully designed bathroom fixtures and furniture, can be yours with the help of Ahmco. Our team members are experts at incorporating a range of products to create a coherent and striking design. If you are looking for a bathroom installation in Harpenden or one of the surrounding areas, feel free to contact our team to start designing your luxury bathroom today.