The bathroom is often seen as one of the trickiest areas of the home to design as, regardless of how much space you have available, functionality must always remain at the forefront of your decisions. From baths and showers to sanitary ware and storage, there are a whole host of pieces of furniture that must be incorporated to ensure that the bathroom remains practical. This means that if, much like many homes across the nation, you have only a smaller bathroom, creating your ideal space can be somewhat tedious due to added restrictions. However, this most definitely doesn't mean that you cannot achieve the space that you have always dreamed of. Having spent many years specialising in the design and refurbishment of bathrooms in Harpenden and the surrounding areas, we have picked up a wealth of super handy tips, including a tone of small bathroom decorating ideas, which we are going to share for inspiration!
Ahmco's Small Bathroom Decorating Ideas
Although the thought of tackling a full renovation on a small bathroom can be somewhat daunting, there are tones of different ways that you can ensure that your space meets all of your needs without having to compromise on style. In fact, through taking advantage of some of our bathroom designers best-kept secrets, your small space can be transformed into the ultimate haven for relaxation, without looking cluttered or cramped. So, without further ado, let's take a look at our small bathroom decor hacks: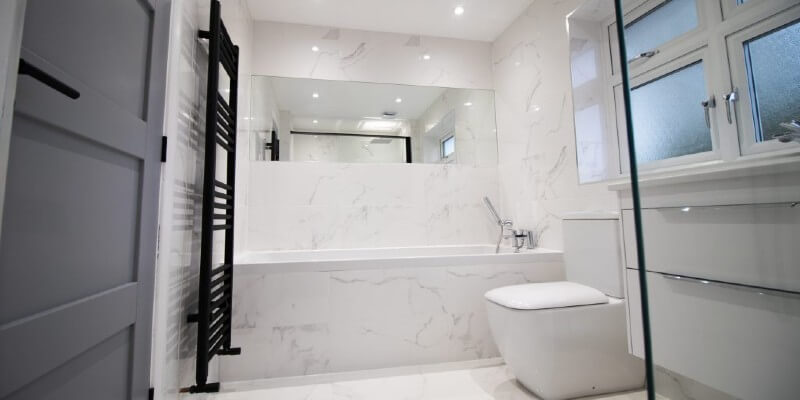 A shower enclosure is something that many associate with only large bathrooms in luxury mansions, but they are, in fact, ideal for those with a smaller space. Due to the glass nature of shower enclosures, they are perfect for creating the illusion of a bigger space as no areas of the bathroom are hidden behind screens. They are also designed bespoke to the measurements of your bathroom, meaning that you will still have plenty of space for the remaining furniture.
When designing your shower enclosure, there are several different shapes that you can choose between. Those with a smaller bathroom, in particular an ensuite, would be best suited to a quadrant-shaped design as this will fit seamlessly into the corner of the room without sacrificing too much floor or wall space. This remains the most compact enclosure option as it makes the most out of an area that is likely to be otherwise wasted. The doors can then either slide one behind the other, or if you have room to do so, open outwards into the bathroom. Many of our clients that opt for a shower enclosure as part of their bathroom in St Albans complete their new addition with chrome accessories, such as taps and a shower basket. This creates a shiny surface for light to bounce off, which is another handy way to create the illusion of more space.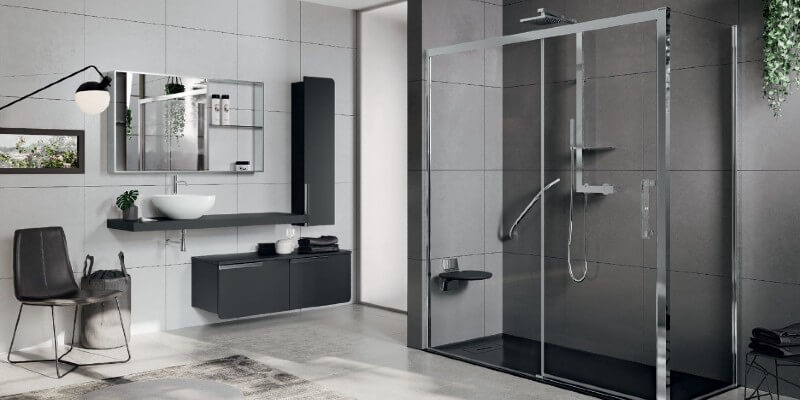 Choosing a colour scheme is one of the most exciting parts of every home renovation; however, if you are limited in terms of space, we suggest sticking to an option that you know you can strictly adhere to. A room that is filled with a myriad of colours, while it may look vibrant, is likely to make a small space look cluttered, which is something that you want to steer clear of where possible. With this in mind, we suggest taking into consideration the 60-30-10 colour rule when decorating your bathroom.
The 60-30-10 is super straightforward and will mean that your design is based on just three primary colours; it goes like this:
Main Colour – The main colour that you choose for your bathroom will be used for 60% of the space, which will include walls, large pieces of furniture and perhaps the flooring.
Secondary Colour – Next is your secondary colour, used to fill 30% of the space, such as the bathtub, shelves or rugs.
Accent Colour – Last is the accent colour, which, as you may be able to guess, will be incorporated into just 10% of the bathroom. The towels, mirror frame or toothbrush holder could all be in the accent colour.
Now, when determining your colour palette, while many will recommend opting for neutral colours for a smaller bathroom, this doesn't necessarily have to be the case. A neutral scheme will indeed reflect light, therefore making the space look bigger; however, you can still get away with darker shades should you want a more contemporary aesthetic. Black-themed bathrooms have been a huge trend over the past few years and are still possible for those with a smaller bathroom. Simply use a high-gloss finish on, for example, your furniture, and you will create depth as opposed to closing in the space. You can find a host of inspiration on ways that you can decorate a black bathroom over on Next Luxury.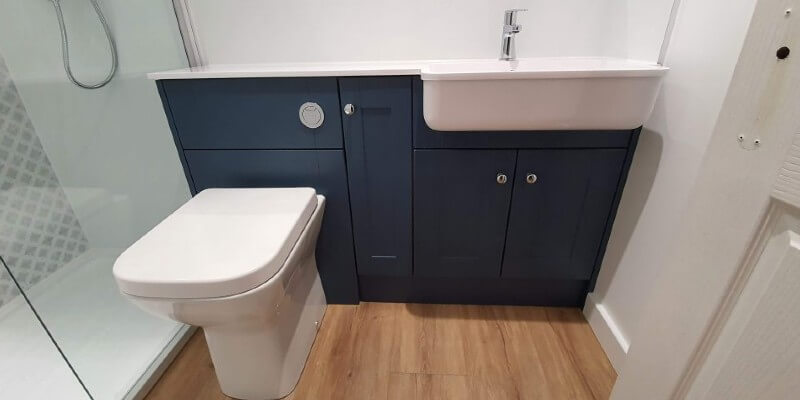 Another beautiful piece of bathroom furniture that you may think cannot be incorporated into a small bathroom is a freestanding bath. While freestanding baths may appear to take up more room than their conventional mounted alternatives, they actually require the same, if not a little less, space in your bathroom. This means that if you adore the appearance of a freestanding bath just as much as we do, there is absolutely no reason why you should shy away from the idea. We would suggest taking advantage of oval-shaped freestanding baths as these will be the best option if you have a restricted floorplan. The plinth slipper and footer slipper tub styles over on our freestanding bath page are excellent examples of oval designs.
Once installed, you may even notice that the bath helps to make your bathroom look that little extra spacious as the corners of your room will still be open. You could also consider using shelves to disguise any waste pipes from the bath, which will also double up as storage.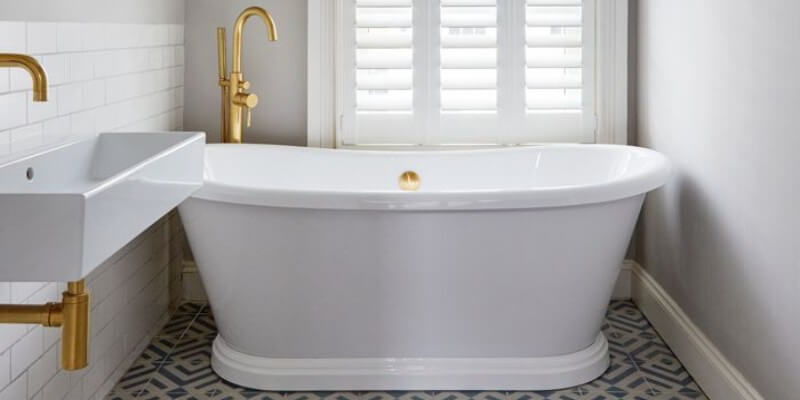 If you are looking for more straightforward, low-cost ways to breathe a new lease of life into your bathroom without replacing any furniture, why not consider upgrading your mirror? Not only are mirrors essential in the bathroom, but they are also a proven way to create the illusion of a bigger room. If you strategically place mirrors at an angle where they always catch the light, whether this may be natural or artificial, it will bounce the light deep into the room.
There are several different ways in which you use mirrors to trick the eye into thinking the bathroom is larger, and your decision will be based on your interior design. For those that do not have a window in their bathroom, which is very common in flats and apartments, you could install a mirror that is designed to mimic a window. If you are looking for a more contemporary touch, on the other hand, a mirror equipped with LED lighting would be ideal. Along with designing and installing bathroom suites in Milton Keynes, our team at Ahmco also specialise in bespoke mirrors, so if you like this idea, but your bathroom is more uniquely shaped, do not hesitate to give us a call!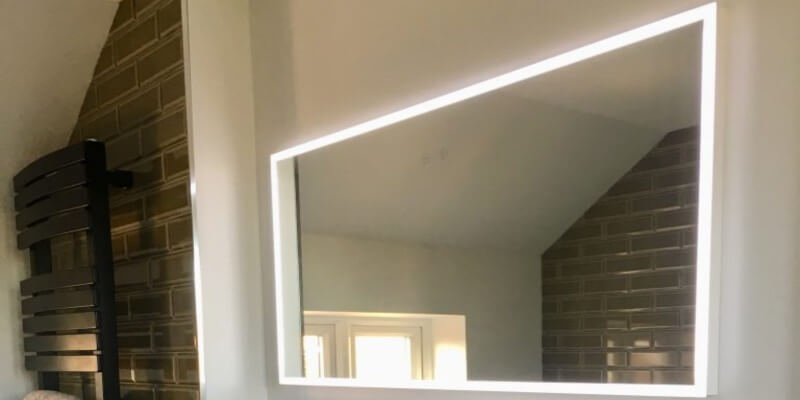 As mentioned above, sticking to a scheme of just three colours is always the best route for a small bathroom, but this most definitely doesn't mean that you cannot add a touch of personality. Fitting decorative tiling is a fantastic way to bring uniqueness to your space without cluttering, for example, shelves, with ornaments.
To decorate your small bathroom with tiles, we would always suggest working with an expert to ensure that you do not cause the room to look enclosed. Instead, you will want to choose to add tiling to areas that will, again, create the illusion of more room. For instance, if you have a mounted bath surrounded by tiles, then you may want to consider also tiling the side of the bath in the same design. This will start to play around with perception, making it look as if the bath is further away. The same concept will also apply when tiling a shower enclosure or wet room. You can find hundreds of tiling ideas to inspire your design on Huedecors.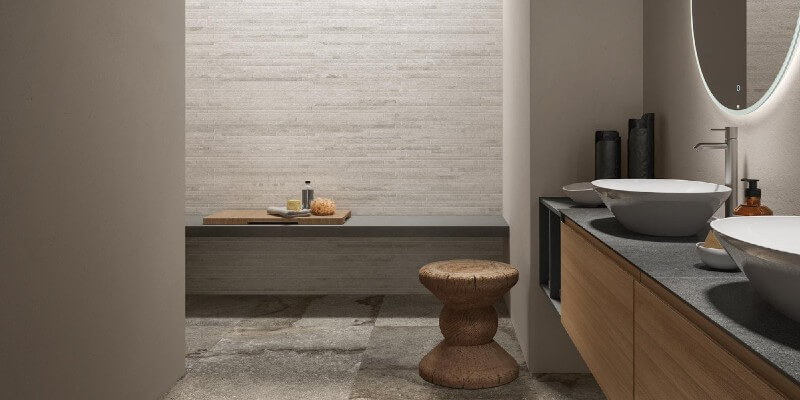 In any small space, smart storage solutions will be your best friend. Particularly in your bathroom, when anything from toiletries to makeup and skincare products is required for everyday use, it is essential to incorporate ways to store these within reach without causing clutter. Luckily, there are an array of great ways in which you can keep your bathroom organised, including the following:
Narrow Shelving Units – Every bathroom needs shelves, but once all of your sanitary ware has been fitted, you are likely only to be left with free areas that are on the narrower side. The Ragrund shelving unit from IKEA is a fantastic solution for this; it is freestanding and equipped with seven roomy shelves.
Shower Organiser – You would be surprised how handy a shower caddy would be in ensuring that all of your daily essentials are to hand while showering. Anything from shampoo and conditioner to sponges and body wash can be stored neatly inside the shower itself.
Mirrored Wall Cabinet – Multi-purpose furniture is always perfect for those with a smaller home, so why not double up your storage and mirror with a mirrored wall cabinet?
Over The Door Shelf – There is a significant amount of wall space above the bathroom door which can, in fact, be used to store items such as folded towels.
Cleaning Product Box – Nothing is worse for dampening the appearance of your bathroom than a collection of cleaning products. So, to hide all of your essentials away and declutter your space, we suggest investing in a cleaning product box.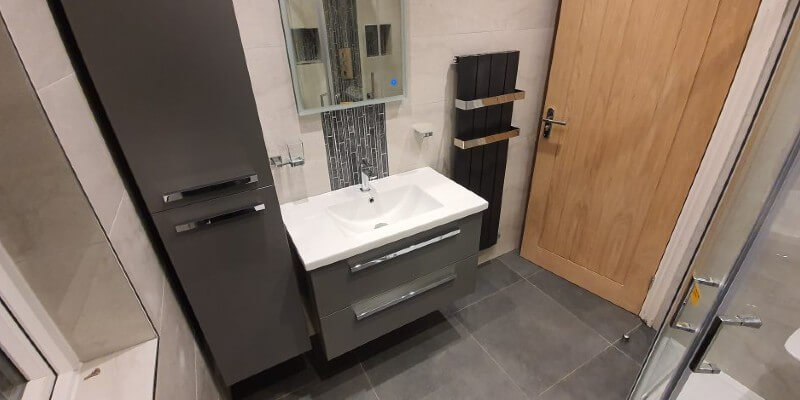 Picture Inspiration For Small Bathroom Ideas
Having provided designs and refurbishments for many years, we have our fair share of photos from previous projects that we have worked on. To give you an image of how you can transform your bathroom, take a look at our gallery below for some small bathroom ideas. While not all of the bathrooms featured are small in size, our team can help to adjust the deisgns to be more suited to you and a small bathroom.

Utilising Small Bathroom Design Ideas
Although the first assumption is always that a small bathroom means limited design opportunities, this needn't be the case. There are now a wealth of ways in which you can bring your vision to life without creating a room that feels cluttered and is hard to manoeuvre. With the help of Ahmco, your dream luxury bathroom can be transformed into a reality, so why not get in touch and begin the process? Our team cover numerous areas, installing baths, tiles and shower enclosures in Chesham, Milton Keynes and many more.