The traditional bathroom style is centuries old but remains popular to this day – and it's not hard to see why! Elegant and luxurious, the style does not owe its inspiration to anyone era but rather incorporates aspects from several different ones, including Victorian and colonial styles. If you love the look of traditional bathrooms but are unsure where to start when it comes to styling one, our handy guide to traditional bathroom ideas is here to help!
Stunning Traditional Bathroom Ideas
Our team of bathroom designers and fitters regularly complete bathroom installations in Harpenden and the surrounding areas, meaning that we are well versed in what it takes to put together the perfect bathroom aesthetic. Whether you're after a strictly traditional style or a more eclectic look, we've got you covered with inspiration on all things bathroom, from bathtubs to vanity units to accessories!
Traditional baths are absolutely stunning, serving not only as a means to bathe yourself in luxury but as striking decorative centrepieces. The earliest bathtubs used in Britain were typically freestanding and constructed from metals such as cast iron, copper and tin. One type of traditional bath is the clawfoot tub, which balances on four beautifully ornate feet. If you're wondering how to style a bathroom with a clawfoot tub, Country Living offers 30 stunning examples of ways this gorgeous, traditional type of bath can be used to elevate the aesthetic of your bathroom. The boat bath is another type of traditional bath, which tends to sit directly on the floor and has a curved rim that dips in the middle, creating an elegant, boat-like shape.
Our traditional range includes stunning bathtubs in both of the styles mentioned, made from several different materials and in a range of colours. If you are after an ultra-authentic and striking look, why not go for a traditional style metallic bath made from tin, copper, brass or nickel? If you prefer modern materials but still love the traditional look, you can select an acrylic clawfoot or boat bath. These gorgeous tubs will look incredible in any bathroom, whether the rest of the room also follows a traditional bathroom aesthetic or has a contemporary style. By featuring a traditional bathtub in a contemporary or modern bathroom, you can create a tastefully whimsical, eclectic look. The full range of traditional bathtubs that we can supply can be found here.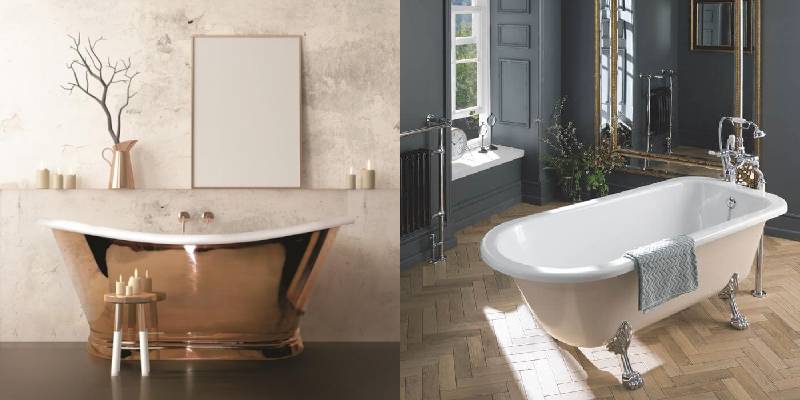 The tiling found in a traditional bathroom is typically very neutral, featuring predominately whites, creams, greys, blacks and muted blues. If you are looking for inspiration on bathroom tiling that is in keeping with the traditional style but would not look out of place in a modern or contemporary bathroom, we have just the solution for you. The stunning Bahia marble tiling by RAK Ceramics is timelessly beautiful. Blue Bahia Granite is quarried in central Brazil and is widely known for its incredible rich blue colour. These tiles are inspired by this coveted stone, featuring the iconic Bahia blue hue amongst other gorgeous stone shades in veined marble and granite patterns. They look stunning with all sorts of bathroom aesthetics and can be used to give a traditional bathroom a modern twist while sticking to a relatively traditional colour palette.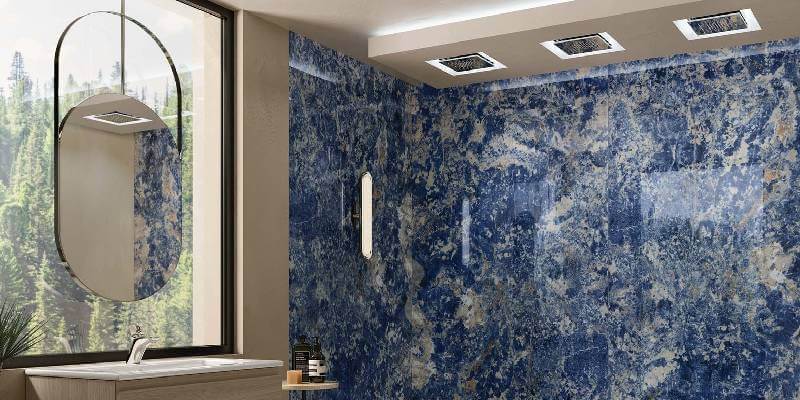 Adequate lighting is a must for any functional bathroom, traditional or not. We recommend installing ceiling lights as a bare minimum, with supplementary light sources being ideal. These can come in many forms, from natural light let in by windows or skylights to additional light fixtures around the room. For example, you could have LED strip lights installed along the perimeter of your floor or ceiling to give your traditional bathroom a lavish modern twist. You could also consider having a light-up mirror incorporated into the design, as our recent client did. These mirrors have built-in LED lights around the perimeter which can be turned off and on to illuminate your reflection, allowing you to get ready in luxury with ease!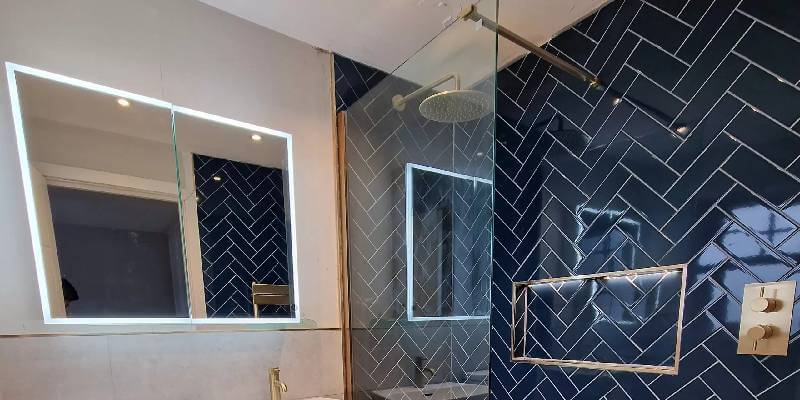 When it comes to the flooring in a traditional bathroom, you can either keep it simple with plain white tiles, make a pattern with white and black tiles or go all out with intricately designed ones. The Moroccan-style tiles featured in one of our previous projects were especially effective. Our team covered the floor in hundreds of ornate tiles, each one with a unique and complex design. The result is incredibly striking and amazing to look at. If you decide to choose a similarly intricate floor design, we suggest keeping the rest of the room relatively simple to ensure that a tasteful design doesn't become an eyesore! This way, you can gaze upon your stunning bathroom floor design every time you enter the room without any visual distractions.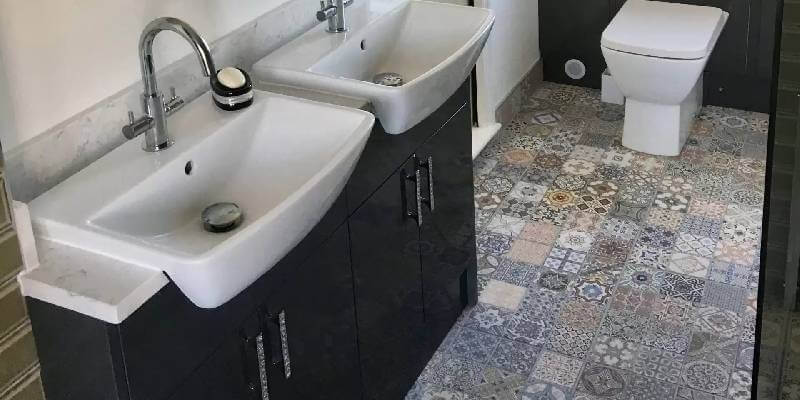 Traditional bathrooms often feature a vanity consisting of a sink unit with a built-in set of cupboards and a mirror placed on the wall behind. The sink unit is typically encased by painted wood-style panels carved with decorative indents. Not only do these traditional vanity areas look stunning, but they are also incredibly functional, providing a concealed and easily accessible storage area used to house hygiene and beauty products or cleaning supplies. They also offer the perfect space for you to perform your daily routines, whether you spend hours perfecting your skincare, hair and makeup or set off for your day straight after brushing your teeth!
We often create traditional bathroom vanity spaces for clients when designing and installing bathrooms in Harpenden and the surrounding areas. We use the Calypso 'Chiltern' range which consists of units encased in framed-effect inset panels with pencil line grooves to emulate the traditional style using advanced modern materials and techniques. These panels come in a variety of gorgeous colours, from soft white to dark sapphire to dusky pink. They can also be finished with grain or paint effects to create a traditional rustic look.
The Chiltern vanity units come in several different shapes and sizes and can be floor standing or wall hung with a choice of doors or drawers. The sink is built into the unit for a seamless look and can be completed with a sleek basin mixer tap from the Vado 'Omika' range. The Omika range also includes small ornate wall shelves which can be hung by the sink to hold soap or decorative plants and candles. The traditional bathroom vanity area can be completed with the addition of a mirror above the vanity unit. We suggest the HiB 'Alfera' mirror, which has a stunning oval shape and bevelled edge, giving it the perfect traditional look.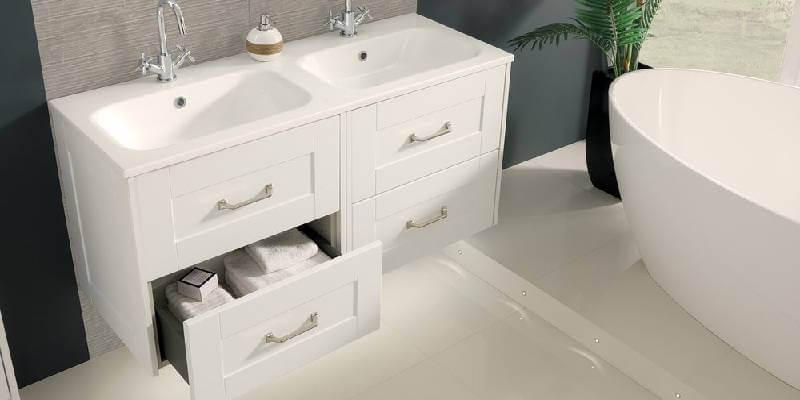 The finishing accessories and decorations are what can make or break a traditional bathroom. Thankfully, we always complete our bathroom installations in St Albans and the surrounding areas with stunning accessories that perfect the room's aesthetic and can advise on the best options for a traditional bathroom. We suggest choosing a few accessories or decorations to include and going from there: you want to avoid overcrowding your bathroom and spoiling its aesthetic by squeezing in unnecessary installations!
One option is to incorporate the stunning traditional style 'Lingfield' floor standing towel rail from The Radiator Company into your bathroom design. The rail comes in four beautiful finishes: chrome, antique bronze, antique copper and bright nickel, all of which effortlessly capture the traditional bathroom aesthetic. Not only does this piece look amazing, but it will also keep your towels nicely heated for the ultimate spa-like bathroom experience.
The Miller 'Oslo' range is perfect for those little bathroom accessories that can easily be overlooked but can vastly improve your bathroom experience when included. Some of the products in this range are toilet roll holders, robe hooks and wall-mounted containers, such as a tumbler to hold toothbrushes. By installing these handy accessories, you will avoid clutter accumulating on surfaces, keeping your bathroom looking sleek and fresh. All of these products have an elegantly subtle traditional look, with engraved circular wall mounts and a polished nickel or chrome finish.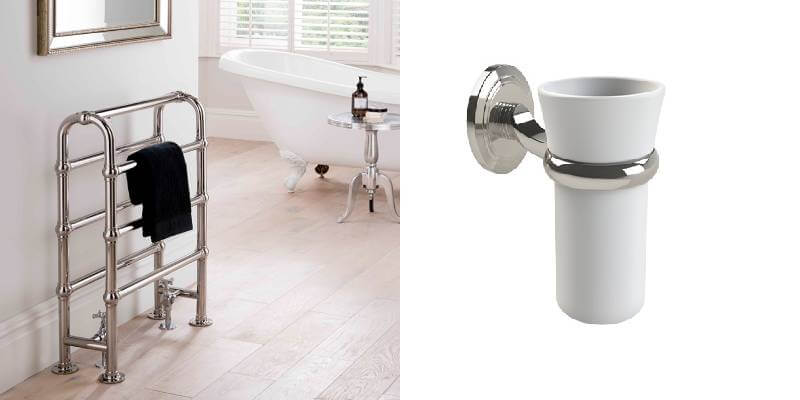 Traditional Bathroom Inspiration
We hope that our article has helped you to get inspired with ideas for your traditional bathroom. If you like the look of the product ranges included in this article, why not get in touch with our team about our bathrooms in St Albans and the surrounding areas? We offer all of the mentioned product ranges and more in our bathroom design and installation service and are committed to making the bathroom of your dreams a reality, whether it be a traditional luxury haven or a stunning contemporary space. For more information on different bathroom styles, why not take a look at our previous article?