Remodelling a bathroom is an incredibly exciting prospect with endless opportunities on how to add a touch of personality to your new space. However, as many components must be incorporated to make your bathroom not only aesthetically pleasing but also functional, it can be tricky to know where to start. One of the hardest decisions will be choosing which tiles will be integrated into your design, as the tiles can bring the colour scheme and luxurious feel together.
With this in mind, having specialised in bathrooms in Harpenden and the surrounding areas for many years, we have pieced together some of our favourite bathroom tile ideas as well as some things to consider when choosing your tile colour and material.

Sign Up For More Inspiration
Piece together your bathroom design with our regular updates
Inspire Your Next Renovation With These Bathrom Tile Ideas
With a plethora of tile styles available, you most definitely will not be short for inspiration when researching those that best fit your vision. Although the appearance will be the most significant contributing factor towards your decision, you must also keep durability, hygiene and ease of cleaning in mind, as well as whether you require additional features such as slip-resistance – this will mainly be for floor tiling. With so many things to consider, let's take a closer look at how to make your decision a little easier.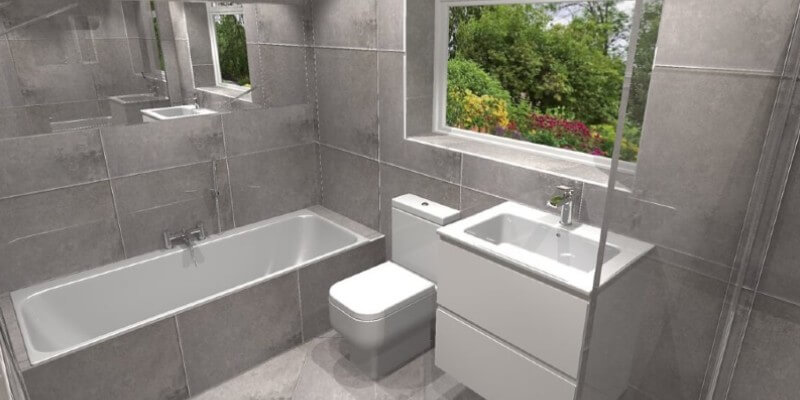 Tiles are one of the most common decor choices in a bathroom, not only because they offer guaranteed water-resistance, but they also help to maintain a clean appearance, even many years after installation. This leads to the question, 'what are the best bathroom tiles?' and 'what features make a good tile?'. Before beginning to shortlist your final tile options, it is vital to familiarise yourself with the key qualities that you should keep an eye out for. These will ensure that you do not experience any issues or damage in the future. The most important characteristics of a good bathroom tile include:
Easy To Clean
From shampoo and conditioner to toothpaste and cosmetics, there are a host of everyday items that are likely to find themselves splattered on your tiling. It is for this reason that your tiles must be easy to clean by simply wiping them down with disinfectant wipes, a cloth or if it is the flooring, a mop. To ensure that you can keep maintenance as straightforward as possible, we recommended opting for a tile with a low porosity as this will ensure that dirt, dust and stains do not become trapped in the surface. For more information on how to clean bathroom tiles, take a look at Real Homes.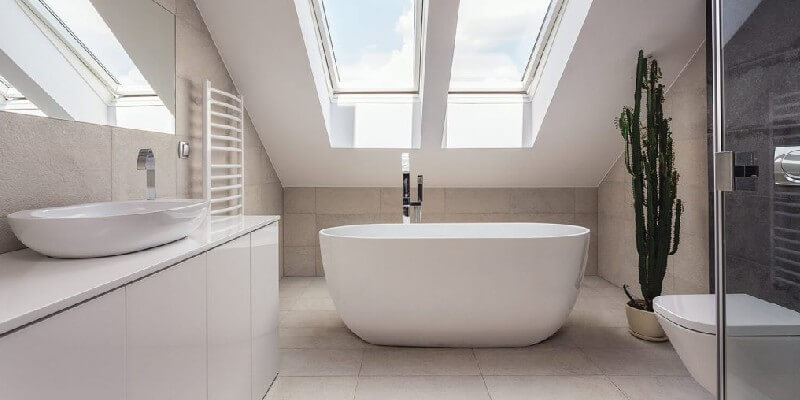 Guarantee Longevity
Particularly if you are planning to tile both the walls and flooring in your bathroom, the job will likely take a considerable amount of time and precision, so it isn't a project that you want to have to reschedule every few years. In opting for tiles that are designed using tough materials with a protective coating over the surface, you can ensure that your tiles last you for years to come, providing guaranteed value for money.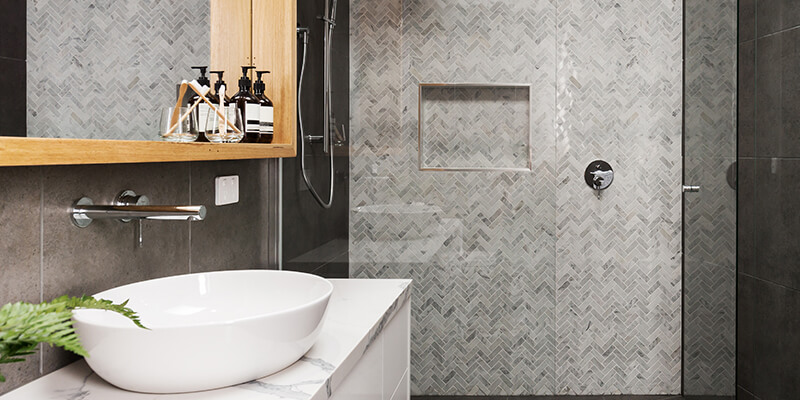 Versatility
Not every area of your bathroom is going to be the same shape, and there will be some small crevices you'll need to fill, which makes it essential that your chosen tiles are versatile. If you opt for tiling that is impossible to cut to shape or may split when reshaped, you may find that you cannot achieve a seamless finish on walls or floors, dampening the overall appearance of your new space.
Anti-Bacterial
If you are particularly worried about hygiene, which has become the case for many in the current climate, then you may want to consider choosing tiles that are equipped with anti-bacterial properties. Due to the nature of anti-bacterial tiles, they prevent bacteria, viruses and mould from being able to grow and spread by decomposing the microorganisms.
Scratch Resistant
Especially if your tiling is predominately on the floor, it's likely that they will go through their fair share of wear and tear. From popping into the bathroom while wearing shoes before heading out to dragging storage boxes and baskets, there are many different things that have the potential to damage your tiling. If you opt for scratch-resistant tiles, on the other hand, you will never have to worry about your flooring beginning to look a little worse for wear; they will stay in immaculate condition.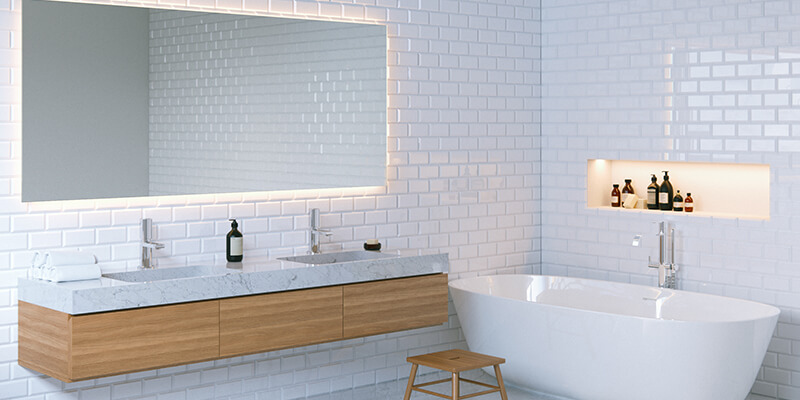 Once you are confident about what qualities to look out for when choosing tiles, it is then time to delve deeper into the types that you may encounter. A wealth of different materials can be used to manufacture tiles, which means that it is guaranteed that you will find the perfect option to fit with your design. When it comes to flooring tiles, you will need to keep in mind slip-resistance and anti-scratching properties in mind to ensure that your bathroom is safe and damage is minimal. Here are our top bathroom floor tile ideas to give you some inspiration:
Cement
It is thought that the use of cement tiles in the home dates back as far as the 1800s, which makes them the perfect option if you adore the appearance of a more traditional bathroom style. Although you can find cement tiles that are plainer in colour, they are best known for their impressive colourful, geometric patterning. One of the most popular pattern styles is those inspired by Moroccan culture, featuring intricate shapes and contrasting colours. This is fantastic for those who want to add a touch of personality to their bathroom, making the tiling the focal point for their space. More details on the benefits of cement tiling can be found on Granada Tile.
If you're stuck for inspiration on how to incorporate patterned tiling into your bathroom, head over to our case study page for a project we completed in Rickmansworth. We worked with a client to transform their en-suite, featuring not only stunning tiling work but also a modern shower enclosure and much more! It is a wonderful example of how your choice in tiling can make a massive difference to the overall finish of your design.
Brand: RAK Ceramics
Collection: Revive Concrete
Limestone
Ceramic bathroom tiles are most commonly complete with a high gloss finish, making them a beautiful accompaniment to a clean white bathroom. It also means that they can easily be wiped down should they begin to look a little grubby, keeping your bathroom looking pristine. The most significant benefit for many is that ceramic tiles are considerably more cost-effective than their alternatives, without having to compromise on quality. They are available in a wealth of shapes, sizes and colours, allowing you to find the perfect finishing touches for your bathroom.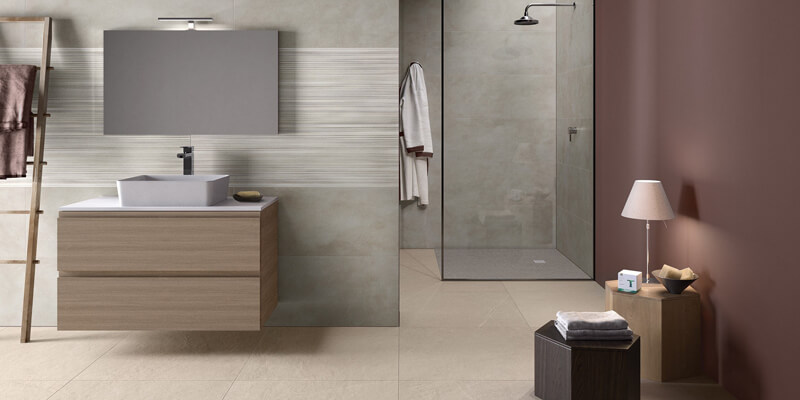 Brand: RAK Ceramics
Collection: Shine Stone
Slate
For those with a more neutral design palette, limestone would be an excellent tiling material option. Limestone comes alongside a more rustic feel and as opposed to a decorative finish, and are widely known for their organic, textured finish, mostly in shades of beige. They are ideal for those who want to reap the benefits of a natural stone tile but do not have the budget to cover alternatives such as marble. These natural properties of limestone also mean you do not have to rely on synthetic substitutes, making the material one of the most environmentally friendly tiling options. Groovy Green has put together a great article with more information on the environmental benefits of using limestone when designing your home.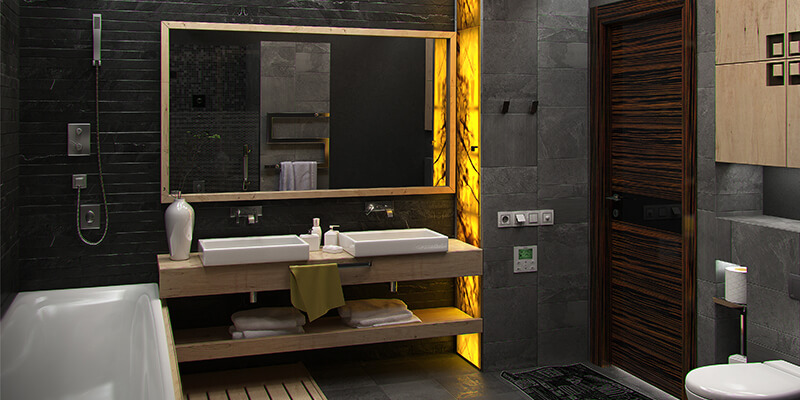 Now that you have a full understanding of what makes a good bathroom tile, it is time to take a look at some bathroom wall tile ideas. There are plenty of ideas that you can take into consideration, some of which are perfect for modern style rooms, while others can help to bring a slight hint of colour without going over the top. Here are some of our favourite bathroom tile ideas!
Marble
Having specialised in bathroom installations in St Albans and the local surrounding areas for many years, we have seen an abundance of trends come and go, but one that remains is marble tiling. Marble is always the first choice for those hoping to achieve a modern bathroom style, often used to accompany a white design for a simple yet sleek aesthetic. Depending on your budget, you can opt for either a natural marble tile made from organic limestone or an artificial alternative that will prove far more affordable. If you were to choose the route of installing natural marble, you would need to schedule resealing on a regular basis as this will prevent the surface from staining and etching with age. For a guide on how to seal marble tiling, take a look at The Spruce.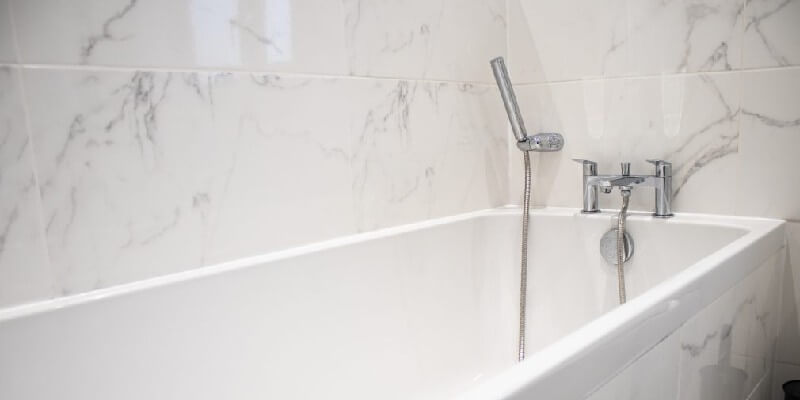 Brand: RAK Ceramics
Collection: Panda Marble
Glass
A tile material that is often left unconsidered yet looks stunning in any bathroom design is glass. As glass offers a reflective surface, it means that it is ideal for bouncing light around the room, making the space appear more bright and airy. This makes it a fantastic choice for those with a smaller bathroom, especially when accompanied by mirrors, as it tricks the eye into believing that the floorplan is larger. For more tips on decorating a small bathroom, take a look at our previous article.
Although glass tiles can be used on the flooring, they are better suited to the walls as, due to the fragile nature of the material, they cannot withstand heavy traffic. When used on the walls, on the other hand, particularly in a mosaic pattern around the shower, glass tiling offers a sophisticated, contemporary bathroom design. They are also available in a range of beautiful colours, with the most popular being muted, pastel hues.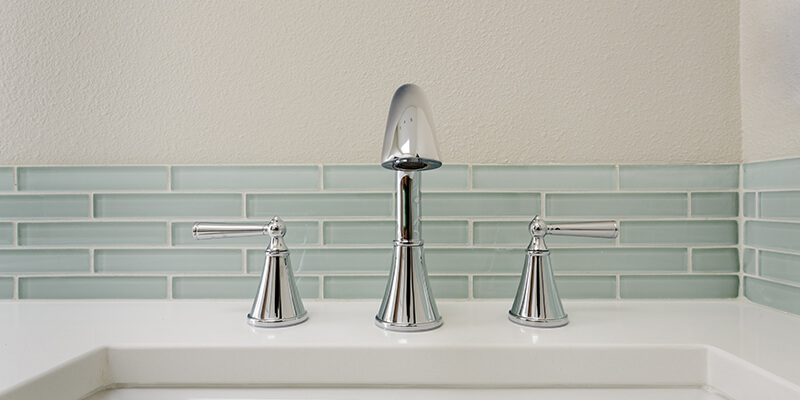 Best Bathroom Tile Colours
There are tons of colour themes you can introduce into your bathroom, with many of our clients sticking to soft, elegant and contemporary palettes. However, you can incorporate a range of colours from pastel pink to dark navy, helping you to make your space your own. This can be created through freestanding baths, sink units and, of course, tiles. As our most popular designs tend to focus on greys, creams and whites, we have featured some of our recent projects in galleries below to help you visualise trending styles, and how, while using the same colour palette, you can transform your space to match your style.
Grey Bathroom Tile Ideas
By far, the most popular colour is grey, with some clients going all out and having a completely grey bathroom, to others incorporating hints of chrome, blacks and even golds to bring character to the design. Take a look at our top grey bathroom tile ideas:
White Bathroom Tile Ideas
If you're looking to create a backdrop that will allow you to introduce a host of colours and features that will stand out, then white will be your go-to colour. You can design a contemporary, modern or traditional bathroom using the light tones of whites and creams, making it excellent for all bathroom types. White also looks stunning in marble with grey, black, gold and even pink tones running through the stone. Why not consider some of these white bathroom tile ideas for your design?
Complete Your Bathroom With The Perfect Tiling!
Tiling is always a sought-after choice for our clients who schedule the design and installation of their bathroom in Chesham and the surrounding areas due to its wealth of benefits. Not only is tiling ideal for bringing your interior design theme to life, but the feature couldn't be more straightforward to maintain. With just a simple wipe down or mop each time that you clean the bathroom, your chosen tiles are guaranteed to stay in immaculate condition.
Finding the perfect tiling for your bathroom will take a considerable amount of thought, as you will need to consider your colour scheme and the scale of your available space. If you are in need of any guidance, then please do not hesitate to contact the Ahmco team. We can offer a wealth of expert knowledge on transforming your space, as well as tips on how to style your bathroom!
Contact Our Team To Start Designing!
Let's start brining your dream bathroom to life.