When designing a new bathroom, by far, one of the most exciting aspects is finding the perfect finishing touches. Your suite has been fitted, and the plumbing complete, which means that all that is left is to bring your colour palette and design theme together through our 11 best bathroom accessories. These are ideal for adding a touch of personality to your bathroom while still keeping the space minimal and clutter-free.
What Are The Best Bathroom Accessories?
Having spent many years working with clients to bring their vision to life, we recognise the importance of completing every bathroom with small touches that offer not only functionality but also style. These are designed to make your life just that little easier while also incorporating a decorative touch. To help you begin piecing together which accessories you would like in your design, we have put together a guide to those most popular amongst our clients. All of the following accessories are available when refurbishing your bathroom with Ahmco and are sourced from leading, luxury suppliers: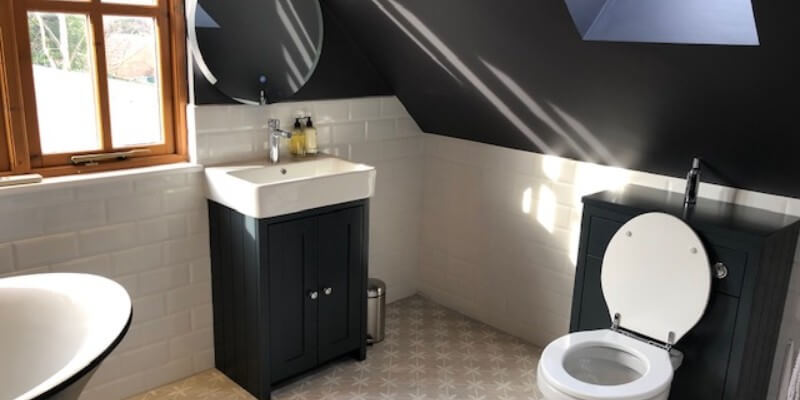 In the past, shower curtains were a popular choice for homeowners designing their bathroom, but these are not always functional. Not only can shower curtains be tricky to clean, but they also tend to enclose the room, making it appear smaller. With a glass shower screen, on the other hand, the entire bathroom comes together as one with no divide between the main space and shower. They are also super easy to clean – you can find a full guide over on Molly Maid.
When designing your shower screen with Ahmco, every aspect will be custom built to fit with your requirements, ensuring a seamless, cohesive look. A great example is a wonderful project we completed for Mr Salter, who contacted us interested in our bathrooms in Harpenden and looking for the perfect suite to accompany his guest bedroom. As the bathroom features a sloped ceiling, we designed a bespoke shower enclosure. For more inspiration on how you can incorporate a custom shower screen to your bathroom, take a look at our previous projects page.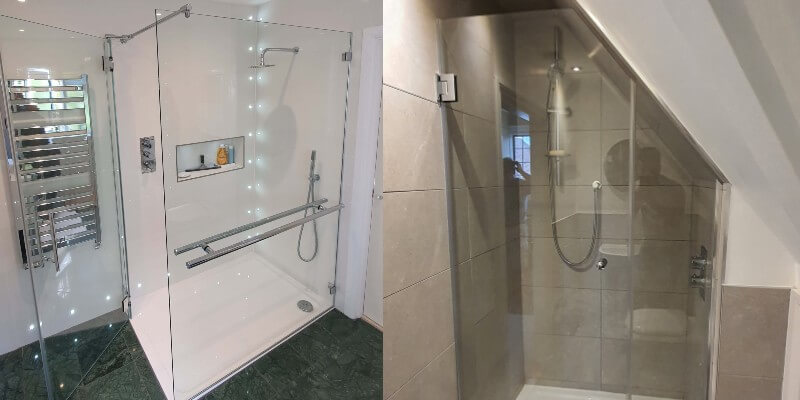 Projects: Hinged Door With Inline Panel & Side Panel in Bushey Heath (left), Bespoke Hinged Door With Inline Panel in Harpenden (right)
No bathroom is complete without a mirror, not only to complete your interior design but also to create the illusion of a larger space. Mirrors are by far one of the most effective ways to maximise the potential of a small bathroom, meaning that if you are limited in terms of space, we most definitely recommend incorporating mirrors into your design. For more tips on how to decorate a small bathroom, take a look at our previous article.
Mirrors are the perfect accessory for every bathroom as they allow to add a decorative touch without sacrificing any valuable floor space. When looking for mirrors to compliment your design, you will have tones of options to choose from. One of the most popular choices amongst our clients is a mirror integrated with LED lighting as they are ideal for brightening up the room. For a multi-purpose solution, you could even opt for a storage cupboard with a mirrored door. Living Etc has put together a great article with 30 stylish bathroom mirror ideas.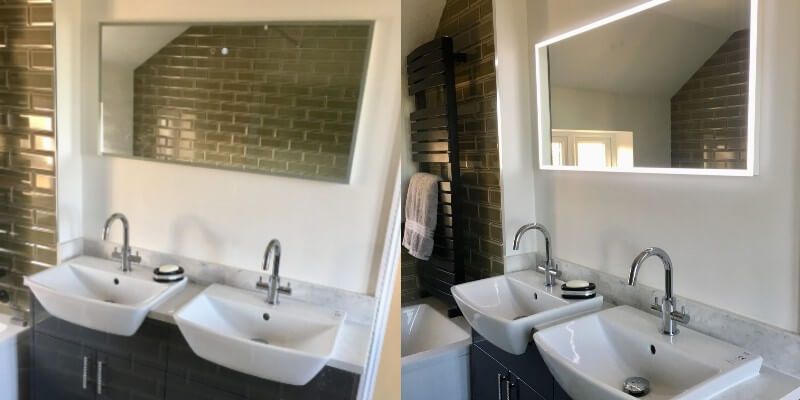 Project: En-Suite Bathroom in Rickmansworth
If you have incorporated a shower enclosure into your bathroom or are in the process of designing a wet room, then a shower tray will definitely be a must have accessory. As well as helping the central area of the bathroom and shower blend together as one, shower trays are also an essential safety feature. They create a level surface which means that there are no tripping hazards and are designed in a non-slip material, keeping your bathroom free from potentially dangerous obstacles. Many of our clients planning their bathroom refurbishment in Chesham and the surrounding areas choose a level to floor shower tray for a seamless finish, which can be seen in the photo below!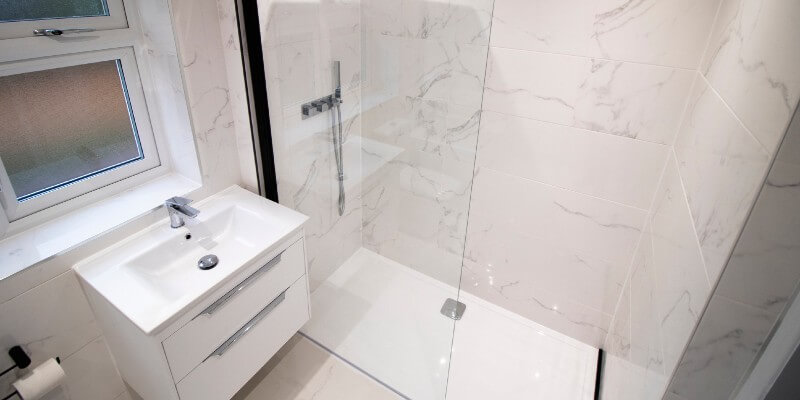 Project: Bathroom Refurbishment in Luton
Another essential bathroom accessory is, of course, a radiator. Although the primary purpose of a radiator is to keep your bathroom toasty warm and to dry towels, in more recent years, the wealth of styles have meant that they also make a fashion statement. Whether you love a modern or more traditional style, you can now find a number of unique radiators which will complement your interior design. Our supplier, The Radiator Company, offers a fantastic collection of radiators from horizontal and vertical styles to even curved designs and those complete with a bench!

Projects: Family Bathroom in Luton (left), Bathroom Installation in Blackmore End (right)
Regardless of the bathroom style you choose or the size of your room, one feature that you will always need is storage. From toiletries and makeup to cleaning products, there are a host of different items needed in a bathroom; all of which have the potential to make your space appear cluttered. Through incorporating a vanity into your bathroom design, you will be able to keep all of your essentials tucked away, yet still convenient enough for everyday use.
If you have a smaller bathroom, not to worry, why not double up your vanity with a basin? This is a super popular choice for almost all of our clients when planning their bathroom suites in Harpenden and the surrounding areas. It means that you can use up valuable space underneath your basin that would otherwise be wasted with a pedestal.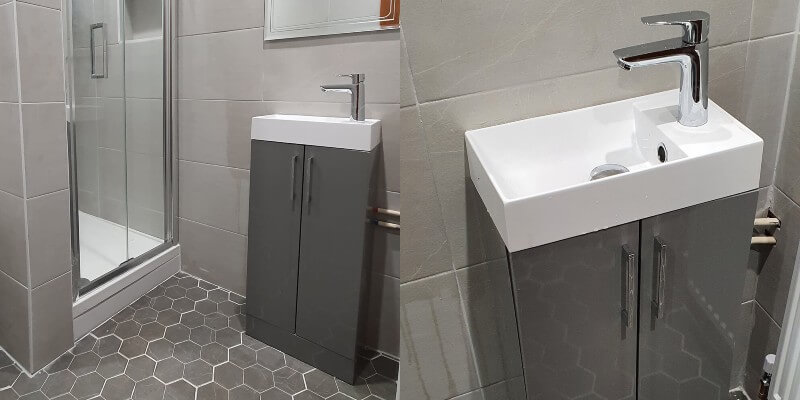 Project: Shower Room in Harpenden
Although items such as a shower tray and storage space are all essential in a bathroom, you would be surprised how much of a difference the smaller finishing touches make. Hooks, in particular, are ideal for keeping your bathroom organised and can be placed in any spots that would function best for you and your family. Most homeowners opt for hooks behind the door for robes, along with a few nearby to the shower for towels. Here at Ahmco, we supply our hooks from luxury brands such as Novellini and HiB, typically in silver chrome, allowing our clients to create a modern look.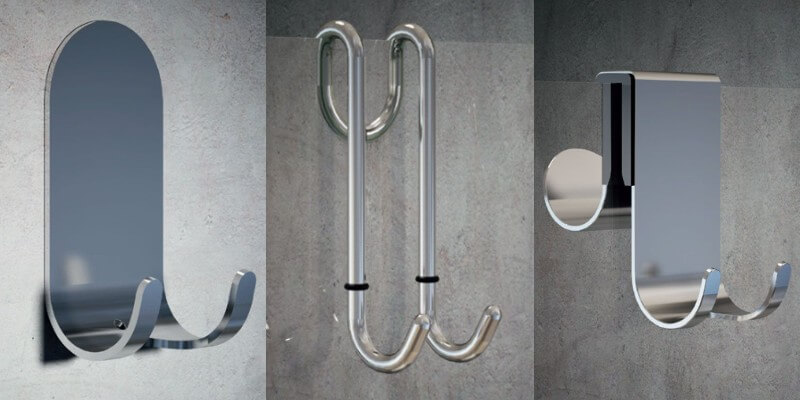 Product: Hooks by Novellini
If you're not so sure on the idea of hanging your towels on a hook, then a towel rack is the perfect alternative. While a towel rack does take up slightly more wall space, they are an excellent accessory for integrating a colour theme to your bathroom. For example, many of our clients love a monochrome look with a simple yet stunning black, white and grey theme. In this instance, you can opt for a black towel rack, allowing you to add depth without creating a space that is so dark it starts to look enclosed.
On the other hand, if you are looking for a more multi-functional towel rack, choosing a heated design is a fantastic option. Although these are slightly more expensive, they will double up as a radiator, keeping your towels warm ready for when you get out of the shower.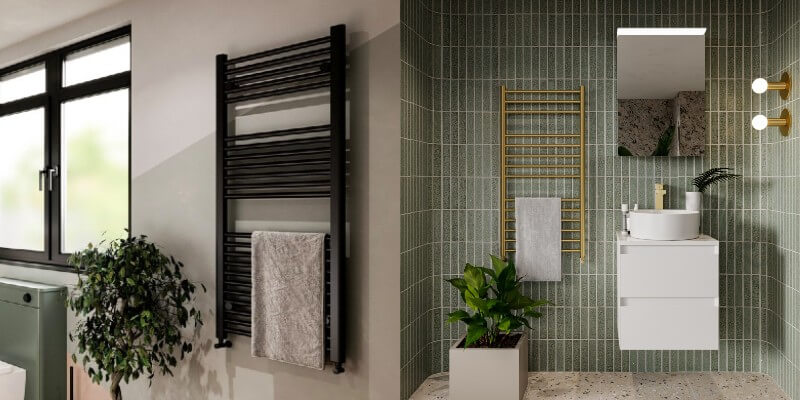 Product: Towel Rails by Saneux
Now you are probably thinking, lighting is not an accessory, it's an essential in every bathroom; however, along with your main light source, you can also integrate LED lighting into various other components of your bathroom. These create the perfect finishing touch and are ideal if you hope to achieve a modern, spa-like feel to your bathroom.
Much like you would add lighting underneath cabinets, for example, in your kitchen, you can also take a similar approach when lighting up your bathroom. Small, compact LED lights can be added inside drawers, around the edge of a freestanding bath and much more, offering both practicality and style. For more handy tips on how to add lighting to your bathroom, take a look at Real Homes.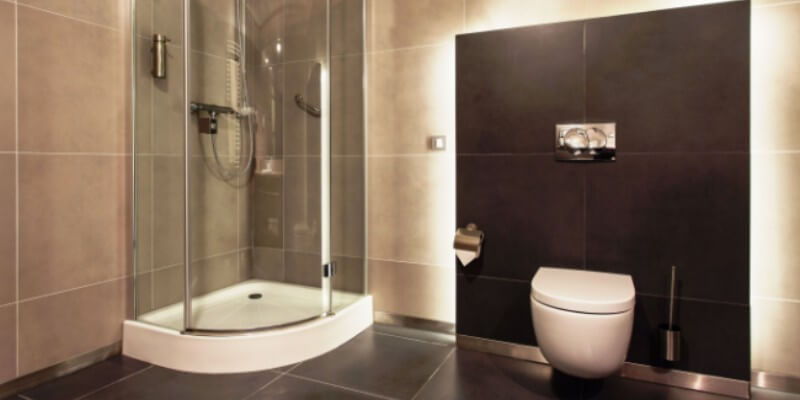 Product: Bathroom LED Lighting by The Light Works
Another accessory that will come in handy when it comes to keeping your bathroom decluttered is shelving. Much like the other accessories in our guide, shelving is both functional and decorative, allowing you to start bringing a touch of personality to your space. The key is to ensure that you choose the items you will place on the shelf wisely, keeping the look minimal to avoid overcrowding. Most homeowners opt for keeping essentials such as handwash, moisturiser, candles and fragrances on their shelves as these tend to look more aesthetically pleasing. You could even invest in a set of dispensers which you can refill with your favourite products, in keeping with your colour scheme and design theme.
Along with toiletries, your shelving could be complete with a houseplant. It has been proven that plants in the home come alongside a wealth of benefits, from air purification to boosting creativity, helping you to improve your overall health. There is even an array of beautiful species that thrive in the humidity of a bathroom, making them a wonderful accessory. Apartment Therapy has put together a fantastic article with more information on the best bathroom plants.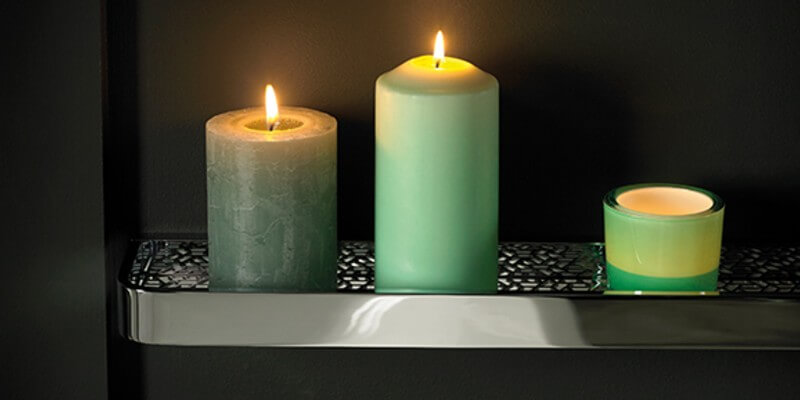 Product: Shelving by VADO
If you have recently had one of our shower enclosures in St Albans fitted, or in any of the other areas we cover, then your next task will be to track down storage to keep all of your in-shower toiletries tucked away. While many of our clients incorporate shelving into their tiling, another fantastic accessory is a shower basket. These are available in tones of different styles from single baskets to those with multiple tiers, offering plenty of space to store all of your essentials. There are even corner designs, helping you optimise every inch of your bathroom, ensuring that no space is wasted. And, much like your towel rail, your shower basket can be matched to your colour scheme, whether you opt for a classic stainless steel design or a contemporary black.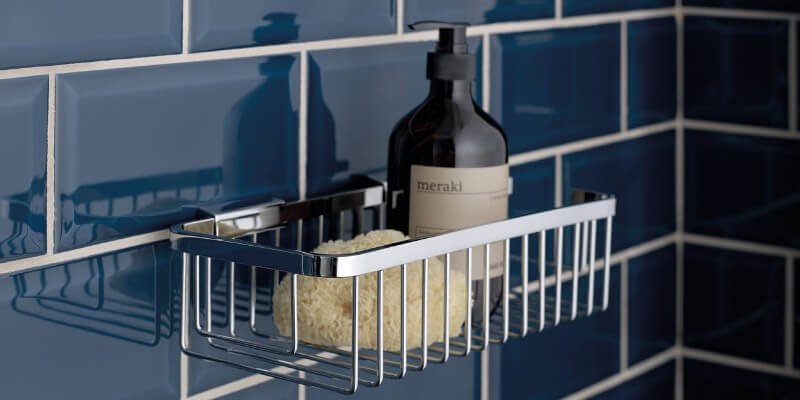 Product: Shower Basket by VADO
Our final must have bathroom accessory, although it may sound super obvious, is a toilet roll holder. While it may sound a somewhat unexciting accessory, you would be surprised to find that there are now a whole host of styles available to fit with your bathroom design. One of our suppliers, HiB now even stocks a toilet roll holder equipped with a shelf and anti-slip mat. This is designed to give you somewhere to place your mobile phone or any other device, preventing it being dropped and damaged. There are also other alternatives which are designed with an angled grab rail, which is ideal for aiding mobility.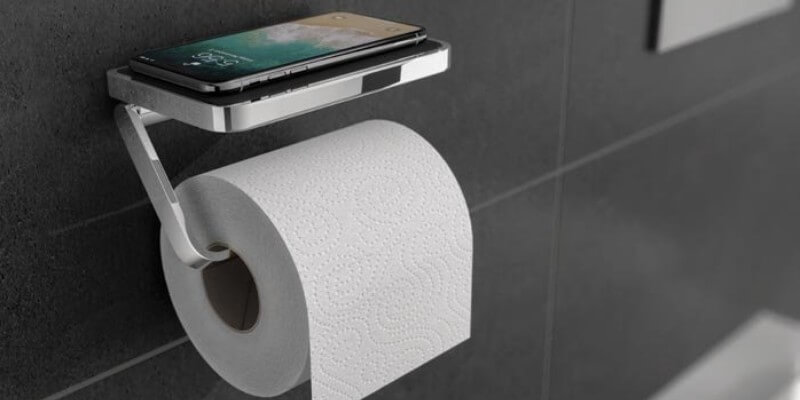 Product: Toilet Roll Holder by HiB
Accessories For The Perfect Finishing Touch
Although your bathroom suite, design and colour scheme are all the most important aspects of your refurbishment, the accessories should never be overlooked. Ideal for incorporating your personality, the finishing touches are what complete your bathroom, creating a space that will remain fully functional for many years to come. If you are in the process of planning a bathroom renovation and are looking for professional designers, then please do not hesitate to get in touch with the Ahmco team. As specialists in luxury bathrooms, our team are experts in bringing your vision to life!