Whether you have a small or large space to work with, there are many ways in which you are able to create a contemporary bathroom. Luckily, the key to a contemporary room is simplicity, which means that you can incorporate all of your bathroom fixtures along with a few accessories despite the size of the room.
However, as specialists in designing bathrooms in Harpenden and the surrounding areas, we have noticed that many clients get confused when trying to distinguish the difference between a modern bathroom and a contemporary bathroom. For this reason, we have pieced together a helpful guide to help you understand the differences and ways you can design your very own space with a few contemporary bathroom ideas for inspiration.

Need Some More Inspiration?
Our newsletter has endless ideas for you to consider!
Contemporary Bathroom Ideas & How To Design Your Own
Designing any bathroom, whether it's contemporary, modern or traditional, entails you to piece together various products and solutions to form a functional and stylish bathroom. Everything from the tiles on the floor to the accessories you pair with your bathroom fixtures will ultimately transform your bathroom into a style of your choosing.
Having worked with clients creating their bathroom suites in St Albans and the surrounding areas for many years, Ahmco has developed a wide range of products suited to all styles and personal preferences, making it easier than ever to design every aspect of your bathroom, big and small. With extensive knowledge in bathroom design, we have come up with a handy guide on the types of products you can use to create a contemporary style. To help you understand more, we have divided our guide into three separate sections: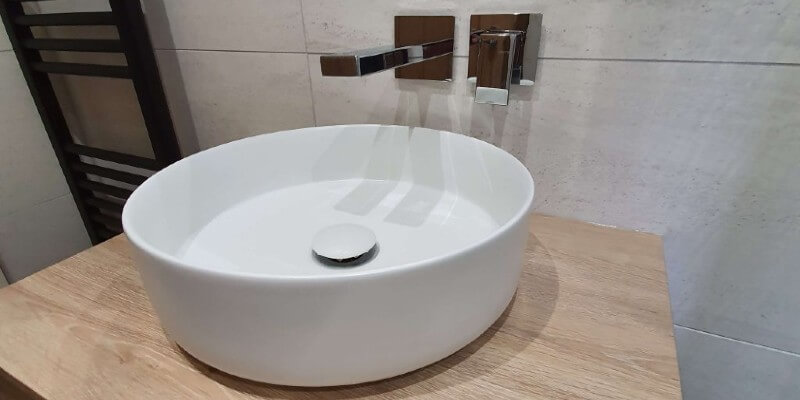 The first error that some people make when designing their bathroom is mixing together modern and contemporary bathroom ideas. While they have some similarities, these two styles provide completely different combinations of products to create their look. For example, a modern bathroom will use tiling to its advantage to create an almost mosaic appearance on walls to define areas such as the shower enclosure; this often also involves a difference in tiling on the walls to the flooring. You are likely to find geometric shapes and patterns along with clean lines and mid-century furniture. The reason for this is that modern bathrooms are inspired by the late 1920s to the 1950s, which often comes as a surprise to many when designing their room. Many clients have the perception that a modern bathroom means the designs that you would see today, such as the all-white or beige bathrooms, which is, in fact, the contemporary style.
Contemporary refers to any design that is current or on-trend, so one that is now popular in homes. This, therefore, means that the current contemporary style revolves around simplicity, neutral colours and natural materials. This is what many of our clients ask for and are looking for when designing their new bathroom, and while it may be simple, there are tons of products and finishing touches that can be incorporated into the design, such as those mentioned below.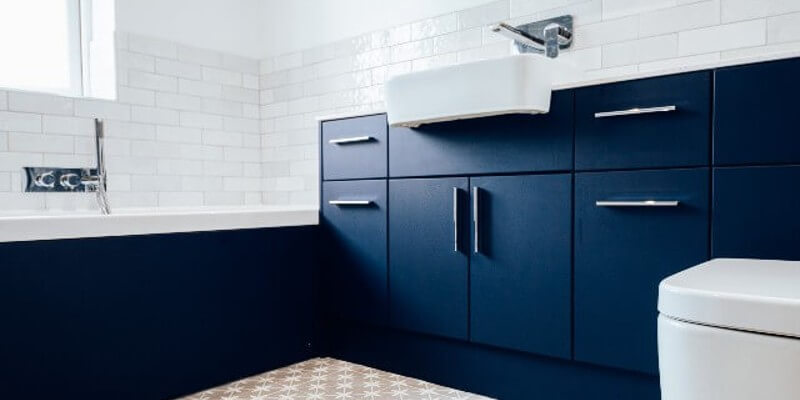 As mentioned previously, there is a lot that goes into designing a contemporary bathroom despite it having a simple element to it. The first step to designing your bathroom will always be to look at a few ideas for inspiration and then formulate a colour palette. From here, the Ahmco team is then able to help you piece together a design with your needs and style requirements in mind. With a range of stunning tiles and stylish taps, designing your bathroom couldn't be easier.
Jump Straight To: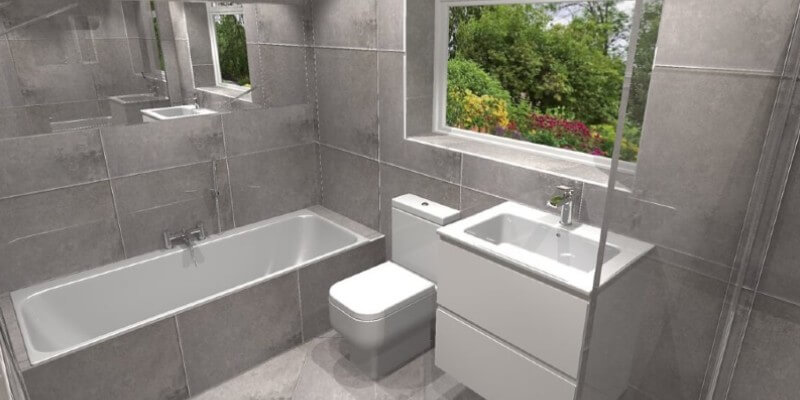 The tiling of your bathroom is incredibly important when trying to create a contemporary bathroom. The key here is to use natural stones, as they can provide you with a soothing and relaxing bathroom. We would suggest opting for a beige or white large tile for both the flooring and walls. However, if you wish to incorporate a dash of character into your bathroom, many of our clients love using marble. If this is something you would like to do in your bathroom, it looks stunning in the shower to create a statement element or a feature wall around your freestanding bath. There are multiple ways in which you are able to incorporate this into your bathroom while keeping it minimal and contemporary.
The following websites are great for a range of contemporary bathroom tile ideas:
Colour will always have a dramatic impact on your home, and it is important to think about this before looking into products. Unlike other style bathrooms, the contemporary design only requires one or two colours with a silver or golden finish through your accessories. This can make it exceptionally easy for those that aren't a fan of too much colour or wish to create a tranquil and relaxing environment.
In a contemporary bathroom, you will usually find neutral colours such as beige, white or creams, all of which are most commonly displayed in the tiles. Most clients opting for the contemporary style will use just one colour throughout their design, bringing a hint of character through accessories such as taps. However, if you do wish to incorporate a range of colours into your design, then you can quite easily use the 60-30-10 rule to keep in tune with your simplistic design while adding definition. Here is how you can follow this rule in your bathroom:
60% – this will take up a large proportion of your bathroom, and is usually used for the walls, flooring and fixtures such as the freestanding bath.
30% – usually, this will be things such as your shower tray, or a feature wall if you wish to have one.
10% – complete your bathroom with stunning accessories such as toilet roll holders, soap dispensers and tower rails.
If you need help trying to devise a colour scheme for your bathroom, then we highly recommend taking a look at the Ideal Home blog for inspiration.
While it is not only used for contemporary designs, a freestanding bath looks stunning in a simplistically designed bathroom. Due to the colour scheme being simple, it means that you can afford to go all out with statement pieces such as a stunning freestanding bath. Much like any aspect of your bathroom, the freestanding bath comes in various styles, shapes and finishes that can easily be incorporated into a contemporary design. If you wish to keep things simple, then you could opt for a rounded bath that takes centre stage in your bathroom or go for a more sharp and sophisticated look with a square pointed tub.
To modernise your bath, you can even incorporate features such as jets to provide you with a multi-functioning bathtub to relax in. You can either choose a simplistic design and add eye-catching features such as the bath taps, or you can choose a bathtub with a more intricate design with subtle features surrounding it to centre the eye on the tub. If you are not too sure about whether this will be a feature that you consider, then take a look at Houzz's guide on the 9 main things to think about when installing a freestanding bathtub.
There are many reasons as to why you should consider a freestanding bath in your design, some of which include the following:
Wide range of designs to choose from
Stunning centrepiece that never looks outdated
Easy installation compared to built-in tubs
You can place the bath almost anywhere within your bathroom, whether that be in the centre or in a corner
Something that can transform your bathroom but is often left as the last fixture to design, is the shower enclosure. To design a contemporary shower enclosure, you would usually use a glass enclosure with silver or golden finishes, showerheads and more, with a stone shower tray. Unlike most bathrooms that incorporate a shower tray to define the shower, a contemporary room seamlessly transitions the shower into the design by continuing the flooring into the shower for a walk-in design. This is one of the many reasons why your tile choice is extremely important.
For a walk-in design, the glass enclosure will cover just one side of the shower with no frame. Alternatively, if you wish to create a more defined shower enclosure, then you can design one with a glass enclosure that has a stunning black frame around the glass. If this is the case, you can also choose to have a chrome or black handle, depending on the interior of your shower enclosure.
Other aspects of the enclosure, such as the showerheads and values, can also be designed to create a coherent look within your bathroom. For example, if you choose to have a black frame on your enclosure, then a stunning sharp black shower head would be perfect, such as the square shower head with an arm provided to Ahmco by Vado. If you would like to create a bespoke shower enclosure that is made to measure your bathroom, then please feel free to contact the team about the array of products that can be used to help you design your bathroom suites in Harpenden and the surrounding areas.
Due to the rest of the room being simplistic in design, the taps are the perfect opportunity to add a touch of colour and elegance to the room. It is important to make sure that you pick a finish that matches your accessories and looks stunning when paired with your chosen features. There is a vast range of taps you can choose from, some providing you with advanced technology and others with a design finish that is second-to-none.
The style of your tap will depend mainly on the shapes you have incorporated into your design. For example, if you have chosen a rounded finish to your fixtures, then taps such as the Omika Slim Mono basin mixer will look stunning in your bathroom design. On the other hand, if, like many, you decide to go for a more rectangular and sharp finish, then the Notion Slimline Mono basin mixer or the Waterfall Synergie Mono basin mixers are perfect.
Although there are many things that you need to think about when designing your bathroom, it is first important to gather a better understanding of what types of bathroom design you like. The best way to achieve this and allow our team to gauge what you hope to achieve is through finding inspiration online.
There is an abundance of websites filled with great ideas, such as Pinterest, which allows you to create a mood board of your favourite bathroom designs. Alternatively, you can always speak with the team to view our bathroom portfolio or take a look at our recent projects through our website.
To give you some inspiration and to see just how beautiful a contemporary bathroom can be, we have comprised four of our favourite designs to share with you: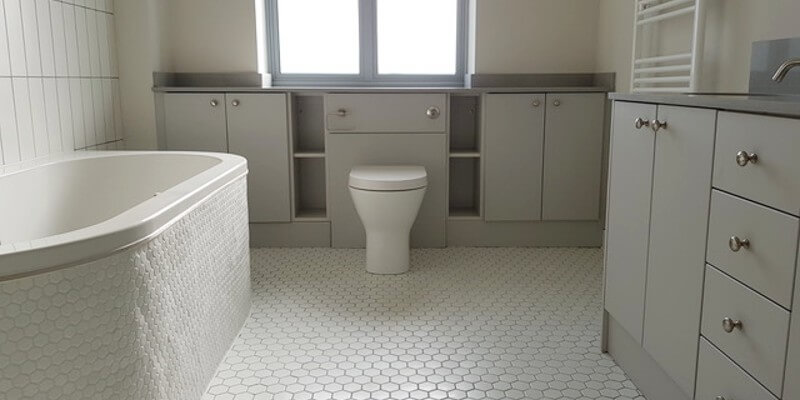 White is by far one of the most used colours in contemporary design, perfectly matched with golds, silver, blacks and greys, making it a wonderful colour to have as your base. Many of our clients choose to have white tiles on the floor and walls, providing the room with a simplistic design. However, they then opt for either a black frame for their shower enclosure or a completely different tile for their shower. If you choose a black shower frame, we highly recommend pairing this with black fixtures such as a black tap, shower valve and even a black shower tray.
Below are some white contemporary bathroom ideas:

This is slightly darker than a traditional, contemporary bathroom, but as you can see, it is just as minimalist and stunning. The Scandinavian design incorporates all of the contemporary style elements but adds a touch of dark features to enhance the relaxing ambience when enjoying your freestanding bath. The bathroom has taken full advantage of tiling to create a distinctive geometric pattern for definition without adding too much to make it look or feel cluttered. As you can see, the taps and even pipework within the bathroom have been perfectly matched with the flooring for a coherent look.
Keeping in tune with a natural look, this bathroom has incorporated a wood-like effect on the flooring and walls while defining the shower enclosure with a tiled shower tray. By doing this, the bathroom has distinct sections and features that stand out merely through the creative use of the tiles. Furthermore, the bathroom incorporates a square sink along with simplistic units for an eye-catching design that is both vibrant and subtle.
Lastly, and one of our favourite designs is the slate grey tiling effect. As you can see, the tiles are large, creating a seamless and smooth appearance in the bathroom. This has not been hindered by the other features within the bathroom, as it continues to look minimalistic yet striking. Grey is an extremely popular feature within contemporary bathrooms, and when it does get used, it often covers the entire bathroom. However, if you wish to add a few more tones and colours into your bathroom, you can always opt for a mixture of grey shades, such as having a darker grey on the flooring or in the shower compared to the walls.
Design Your Dream Contemporary Bathroom
Creating a contemporary bathroom is easy yet tedious, as there are multiple products and colour schemes that you will need to consider before piecing together your dream bathroom. However, with a little inspiration and a helping hand, you can easily design a bathroom that suits not only your family needs but also your style choice. If you would like to design the perfect contemporary bathroom, please feel free to get in contact with our team about the design and installation of your new space, including our popular bespoke shower units in Milton Keynes.
Get Started On Your Bespoke Bathroom!
Our specialist designers are just a phone call away.