Although the ability to remain clean, tidy and problem-free should always be at the forefront of bathroom designs, this most definitely doesn't mean that the interior has to be purely functional. The bathroom is by far one of the most used rooms in the home, which means that creating a space that encapsulates your personality is just as important as the practicality. Luckily, there are a whole host of stylish bathroom design ideas that will allow you to add a touch of character without compromising on functionality, and we're going to introduce you to a handful of our favourite themes!
Bathroom Design Ideas For 2021
Having spent many years designing bespoke bathrooms in Harpenden and the surrounding areas, our team have been lucky enough to see first hand the wealth of opportunities available when refitting a bathroom. Gone are the days where you must stick to a plain, white colour scheme with a minimalist look (unless this is your preferred style, of course!), as now it couldn't be easier to piece together a design that makes a statement.
If you have recently moved into a new home or are planning a bathroom renovation, then attention to detail will be vital, helping you to create both a stylish and practical space. Deciding on your theme will most definitely be the most exciting aspect, so here is some inspiration: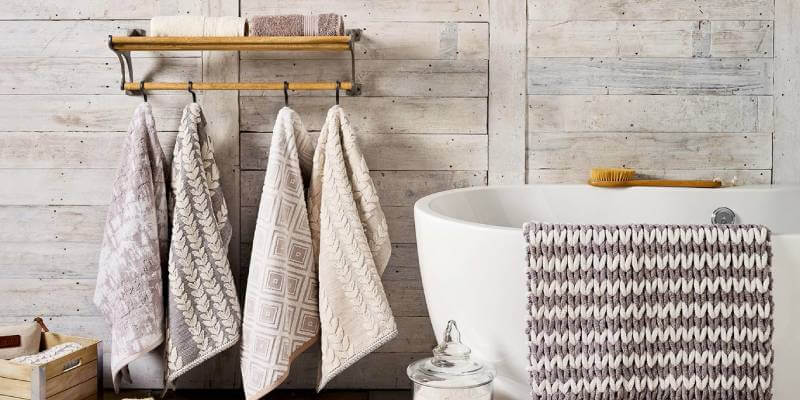 If you are looking for a traditional yet eclectic design, you will love our black and white bathroom ideas. How you piece together your monochromatic bathroom will depend on the size of the space available. For example, if you are lucky enough to have a larger space to work with, you can go down more of a gothic-themed route with dark-coloured walls. Whereas, if you have a smaller bathroom, you will want to choose colour schemes that bounce light rather than absorb it, so should stick with white for the majority of the bathroom with black as the secondary colour.
For those interested in using black as their primary colour, the secret will be to keep the design minimal, focusing on slimline furniture and clean lines. Black tiling is always a great addition to your bathroom, particularly if you have a shower enclosure, as you can create a seamless transition between the walls and flooring. Pair this with a glass hinged door and silver chrome accessories, and you have the ideal contemporary shower. At Ahmco, we custom design all of our shower enclosures in St Albans and the surrounding areas; this ensures that your bathroom is just as you envisioned it to be, so please do not hesitate to get in touch if you have any questions.
Incorporating a black and white colour scheme into a smaller bathroom will involve using white on the walls and flooring, then black on the vanity and accessories, such as taps. You could even consider choosing a monochrome patterned tile, which will allow you to keep the design simple and airy but with a decorative touch. The perfect example of this is an en-suite bathroom that we completed for a client in Rickmansworth. You can find full details of this refurbishment over on our case studies page.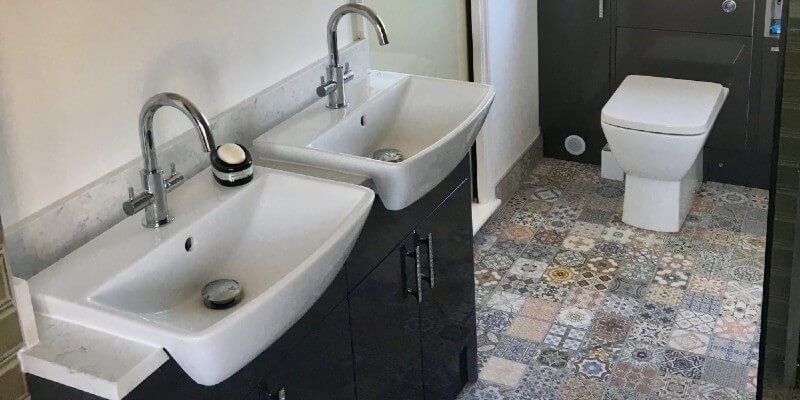 A while ago, we came across a beautiful Malibu coastal home designed by Oliver M. Furth and absolutely adored the bathroom, which we felt perfectly represented the depth of the ocean. They had cleverly combined lighting with paint to make the walls of the bathroom look just like the twinkling water of the sea. Although this was created by an experienced interior designer, it is possible to recreate this look for a super relaxing, tranquil environment through an ocean light projector. This is also a fantastic idea for those with small children who are proving impossible to persuade to jump into the bath. Adding a sensory touch to the space is great for encouraging them to settle down for a bath before bedtime.
Along with the lighting, there are a number of other sea themed bathroom ideas, such as wall art or painting the walls a muted blue shade. The INFINITIVE bathtub available from our supplier Novellini is also a wonderful addition. Not only does its curved design mimic the appearance of waves, but it also comes equipped with LED lights for added ambience. It is available in more than 20 different shades, from brilliant blue to white wood. For the accessories of your sea themed bathroom, brushed gold is an excellent option, which can be used for the taps, mirror and much more. All of these product ideas are super versatile, so if you choose to change your theme in the future, they will still match.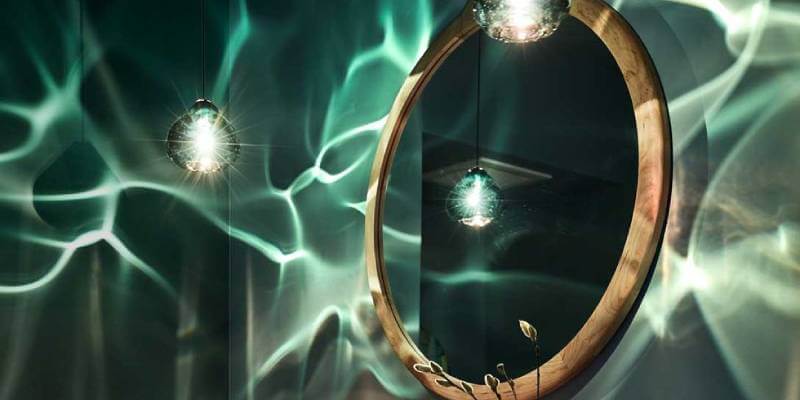 By far, one of the most popular colour palettes for interior design is grey, thanks to its ability to make any room a contemporary haven for relaxation. It is also incredibly versatile, meaning that there are tones of stunning grey bathroom design ideas to suit every style preference. You can choose deep, dark greys for an industrial feel or keep it light for a bright and airy space – the options truly are endless!
One of our favourite grey bathroom ideas is using slate tiles to make the walls and flooring blend seamlessly as one. This is particularly effective if you opt for one of our shower units in Milton Keynes or any of the other areas we cover, as it mimics the feel of a luxury wet room. You can then accompany the rustic tiles with a sleek, modern bathroom suite. Although we work with a wealth of fantastic suppliers, one of the best for those interested in a grey bathroom is HiB. Almost all of the furniture available from HiB, such as the washbasins and shelves, are available in grey, allowing you to choose from a range of styles and ensure every feature of your bathroom perfectly matches.
For more inspiration on how to decorate a grey bathroom, take a look at Next Luxury for 60 beautiful examples!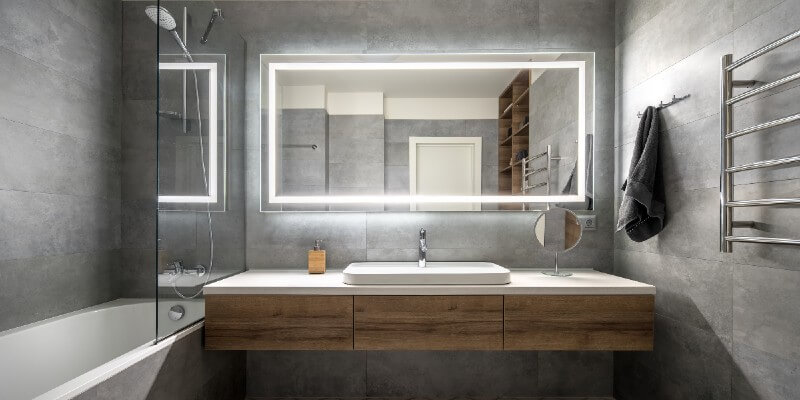 With our holidays postponed until after the pandemic, many of us are dreaming of waking up overlooking the beach. Now, if you are one of the many that love nothing more than escaping to a seaside location, why not incorporate this into your home with our coastal bathroom design ideas. A coastal-themed bathroom is one of the easiest designs to replicate, as in many cases, there will be no need to completely renovate your bathroom. It plays on a super simple white colour scheme, complete with light brown tiled flooring and dark wood window frames. So if you already have a white suite, all you will need to do is update your accessories to transform the space.
It is entirely your choice how subtle or decorative you make your coastal-themed bathroom. For those who prefer something a little more vibrant, you could choose a patterned tiling or a splashback around the sink. Geometric shapes in shades of pale blue with a dash of yellow are perfect for creating the beachy, calming aesthetic. You could even consider finishing one wall in white cladding to replicate the appearance of a cosy beach hut. For the finishing touches, colourful towels, plants and wicker baskets to store your toiletries are all great choices.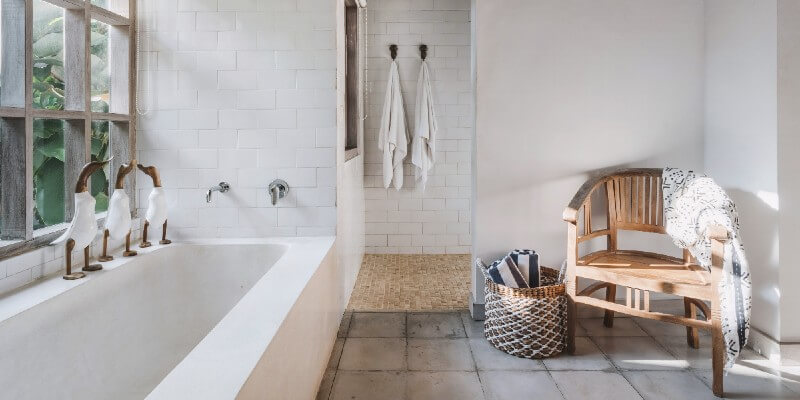 A relaxing soak in a hot bubble bath is the perfect way to unwind after a stressful day and is one of the most popular ways to promote self-care. So what could make your evening bath even better? Creating a bathroom that has all of the feels of a spa, of course! Much like the coastal theme, our spa bathroom ideas can be achieved simply by replacing your finishing touches. This means that unless you are already planning one, a full refurbishment is not always necessary.
If you have ever visited a bathroom in a 5-star hotel, then this is the best place to take your inspiration when creating a spa-like feel from the comfort of your home. The secret will be to keep the design simple with subtle, classy touches, whether this may be marble countertops or a large freestanding bath. Many high end designers incorporate spa rocks into their bathrooms; for example, this can be transformed into flooring, which your freestanding bath can sit on.
For those who are looking to renovate their bathroom completely, we suggest taking a look at the range of luxury products available from another of our suppliers, Calypso. The Collection One range, in particular, encapsulates complete sophistication, and there are many variations of each product to choose from, allowing you to find one that perfectly fits your style. For the final touches, such as taps and hooks, we recommend the Individual range by Vado.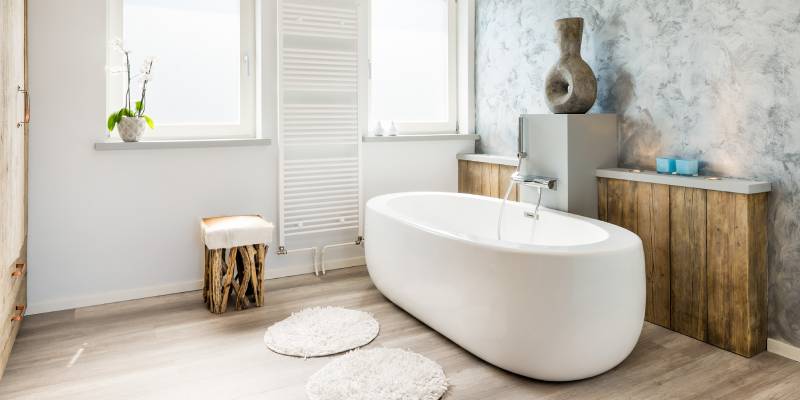 Nothing oozes luxury and sophistication more than Parisian designs, whether this may be the bathroom or any other areas of the home. With this in mind, if you are dreaming of your last stay in the city of love, then incorporating the elegant accents of a bathroom overlooking the streets of Paris is a fantastic choice. Paris style bathrooms are mainly known for their large windows, which allow unlimited light to stream in, so it will be essential to choose a design which creates a bright and airy atmosphere. This means opting for crisp white walls and black and white flooring. Hexagon and square-shaped tiles are always a popular choice, and even better, they couldn't be easier to keep clean!
At the heart of your Parisian bathroom, of course, should always be a freestanding bath. These are a staple piece in every bathroom of this theme, and although there are many choices, we absolutely love the Casini Bath from our supplier BC Designs. With a delicate antique feel, this freestanding bath is available in different pastel shades, from satin rose to powder grey. It really does create a focal point for your bathroom, allowing you to keep the rest of the space minimalist. If you did want to add a final touch of colour, then while it may seem unconventional, floor to ceiling curtains are also a key aspect of a Parisian-themed bathroom.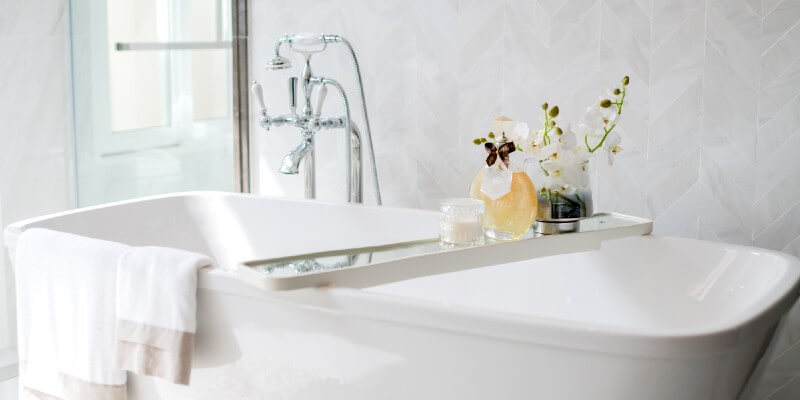 For those who love being surrounded by nature, an earthy-toned bathroom that takes inspiration from the environment's organic beauty would be perfect. This design focuses primarily on rich textures, whether this may be wooden furniture or statement accessories. You could even consider adding a touch of colour through plants in rustic pots, such as a Chinese Evergreen or even orchids, for a subtle hint of pink. When incorporating plant life into your bathroom, it will be essential to choose species which thrive in high humidity and will be able to withstand the temperature changes. Hortology has a fantastic range of bathroom plants which can be ordered online!
When designing a nature-inspired bathroom, the key will be to stick to neutral colours. Most opt for fitting a bathroom suite which features wooden storage and marbled stone worktops. The natural oak London range from our supplier Miller is the perfect example of how you can utilise this theme while sticking to a modern aesthetic.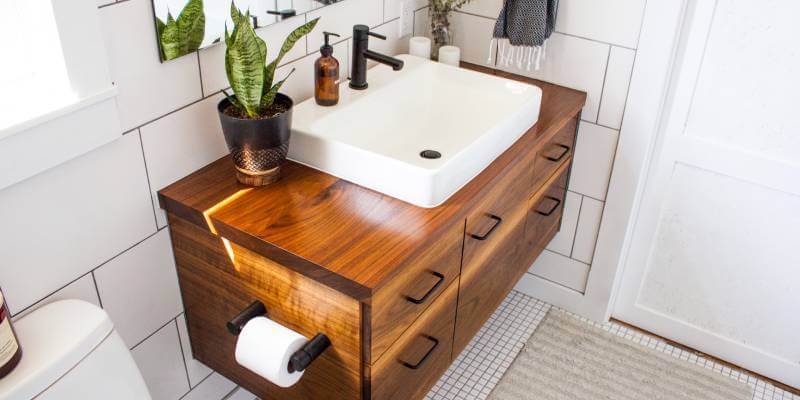 Adding A Unique Touch To Your Bathroom!
As a room that is used every day without fail, it is important that the bathroom isn't neglected when it comes to piecing together a beautiful interior design. Just because the primary focus is on functionality, this most definitely doesn't mean that you cannot create a space that encompasses your personality.
If you are interested in renovating your bathroom, then our team at Ahmco are just a phone call away. With years of experience working with clients to design, install and maintain their bathroom, we will ensure that every aspect is tailored to you. All of the products integrated into your design will be from leading luxury suppliers, allowing the end product to exceed your expectations!